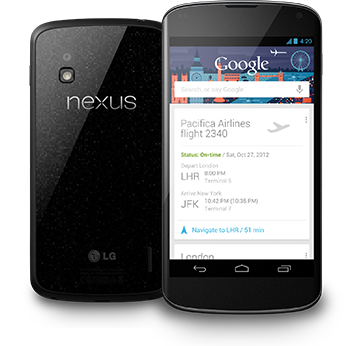 So today is the day [apparently] that those of us that were lucky enough to order a Nexus 4 will receive their shiny new bundles of shiny from the TNT delivery man. There have been sporadic reports of people getting their devices without prior notice from Google from TNT.
We still have no idea how many were sold on the 13th November, but we do know that there was no more stock after 30 minutes, leaving a lot of people wanting and having to wait "weeks" to try and order again and maybe experience another 30 minute window of availability and shopping cart failures.
For those of you that do not know what I mean, basically when the Nexus 4 went live on Tuesday morning everyone could add a Nexus 4 to their shopping cart but when it came to checkout the page either froze or threw an error asking the user to come back later. The usual thing that happens when most users are presented with this sort of thing is not to come back later and actually try more and more, in some cases resulting in many devices being added to shopping carts. It's not just the UK in Italy one Google+ user managed to order €33k worth of Nexus.
This is unconfirmed [but conceivable] that there is a massive backlog of orders and TNT are working through them but it has caused a delay in sending them out
This isn't the first time this sort of thing has happened with a Nexus launch, in 2011 on November 17th the launch of the Galaxy Nexus was bizarrely only at one store of Phones4U in Londons West End. In the summer there was the launch of the Nexus 7, speaking from personal experience I ordered my Nexus 7 on the 27th of June only to receive it on the 18th of July with a fair bit of waiting and confusion in between, while this was going on our very own Jamie Ryan called up Google to make an order for a Nexus 7 and received it the next day! this just added to my frustration knowing I had been waiting for weeks and JR just waltzes up and gets one the next day.
You'd think that Google had learned a lesson from that experience and I did believe this when I saw there were no pre-orders for the next line of Nexus devices but it seems exactly the same thing has happened again with poor communication to the users and this time round a woeful checkout experience.
Update: Thanks to commenter Flavio for clarifying that the user I mentioned from Italy has infact just grabbed it from a post on XDA which was taken from somewhere else.
Link – XDA Developers
Thanks – Martin Clinton