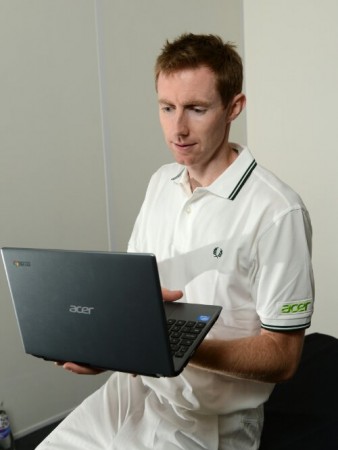 The Chromebook is something that is garnering more and more attention. Google have now introduced two new models to the market. The latest being a slightly lower spec model from Acer. But the price has just crept beneath £200 meaning it is almost as cheap as some tablets.
The Chromebook also offers an almost instant on device that has none of the hassle of a normal PC OS. It is something that appeals to me, we should hopefully be getting one soon to try out.
Here is some info about the Acer C7.
· Available for purchase now in the UK through Google Play, Amazon, PC World and Currys at an affordable £199 (none of these stores have gone live yet)
· Provides hassle-free computing with automatic security and software updates
· Great for use as an additional home computer
· Includes built-in apps for productivity, collaboration and entertainment
Spec:
Boot time 18 secs
100GB of free Google Drive storage
3.05 pounds
HD 1.3MP webcam
Intel Celeron 847 processor (2MB L3 cache, 1.10GHz, DDR3 1333 MHz)
2GB of DDR3 memory
320GB HDD
three USB 2.0 ports
HDMI port
Here is the press release from Acer:
London: (Nov. 12, 2012) – Acer UK today debuts its new Acer C7 Chromebook, its next-generation mobile computer that runs Google's Chrome operating system and is priced at a low £199.

The new Acer C7 Chromebook is the ideal additional laptop for families, students and business people that need a fast, easy and secure way to get online to do their computing in the cloud, such as using Gmail, keeping up on social networks, shopping, and paying bills.

"Today's computer users are doing more online heightening the need for enhanced security, quicker online access and an easy-to-use interface," Jim Wong, corporate president, Acer Inc. "The Acer C7 Chromebook provides all this at an affordable price, making it the right choice for families and students on a budget as well as anyone who wants a new or second mobile PC for web-based computing."

"The core of Google's Chromebook vision is creating a better, more simple computing experience and making it available to everyone," said Sundar Pichai, senior vice president, Chrome and Apps, Google. "We're excited about the Acer C7 Chromebook, the newest addition to the Chromebook family. The Acer C7 delivers a hassle-free computing experience with the speed, security and simplicity that users expect of Chromebooks built in."

Speedy, Secure Online Access

Customers can get online quickly with the Acer C7; it boots up in less than 18 seconds and resumes nearly instantly from sleep mode. The overall Chromebook experience is easy-to-use and navigate. Users can access their favorite apps with a single click through the app launcher and find new favorites from the thousands of Chrome apps and games featured in the Chrome Web Store.

Customers will appreciate that the Acer C7 Chromebook has security features built in to defend against malware and viruses. Plus, since the Acer C7 is automatically updated, customers can be assured that they have the latest software version and protection against online threats. It comes with integrated 802.11b/g/n WiFi, so customers can quickly connect to hotspots and wireless networks.

Safe Storage, Convenient access to Content

The Acer C7 Chromebook is easy to maintain and share with others around the home, school or work. Users can have separate accounts and simply log in to get things done. Once on the Acer C7, it's easy to share and collaborate on documents and projects and share work and personal calendars. Acer Chromebook customers are offered up to 100GB of free Google Drive storage for the first two years after purchase, so files, documents, photos and more are stored safely in the cloud even if the Acer C7 is lost, damaged or stolen. Customers can also access files offline, or create and edit Google Documents and use Gmail offline as well.

Sleek Design for the Mobile Lifestyle

The Acer C7 is portable and sleek for today's on-the-go mobile lifestyle. It weighs only 3.05 pounds and measures a mere one inch thin, so it can be easily taken anywhere as it fits into a backpack, briefcase or purse. The slim size still houses a full-sized keyboard, so customers can comfortably create and edit documents and spreadsheets. The fully-clickable touchpad allows customers to conveniently get things done.

The Acer C7's integrated HD 1.3MP webcam w/ LED indicator and microphone is great for video conferencing, as well as capturing video and photos for sharing online. Websites, documents, photos and high-definition video look crisp and clear on the C7's 11.6- inch HD Widescreen CineCrystal TM LED-backlit LCD.

Acer Chromebook Built for Performance

The premiere offering in the Acer C7 Chromebook line is the Acer C710-2847. Powered by an Intel Celeron 847 processor (2MB L3 cache, 1.10GHz, DDR3 1333 MHz) and 2GB of DDR3 memory, the Acer C7 provides the performance to speed through the web, access files, enjoy video and more. It also has an ample 320GB HDD for storing files. (2)

The Acer C7 connects to popular consumer electronics devices such as camcorders, digital cameras and smart phones via its three USB 2.0 ports. It also has an HDMI port for pushing video and content to external displays and HDTVs. In addition, its card reader supports SD card and MMC, so customers can play their music and video directly from the card, or upload photos, video and music to their favorite sites.

Pricing, Availability and Warranty

The Acer C710-2847 is available now on the Google Play store, Amazon, PC World and Currys for £199.00. The new Acer C7 comes with a standard one-year parts and labor warranty, which can be extended to three years with the Acer Advantage service