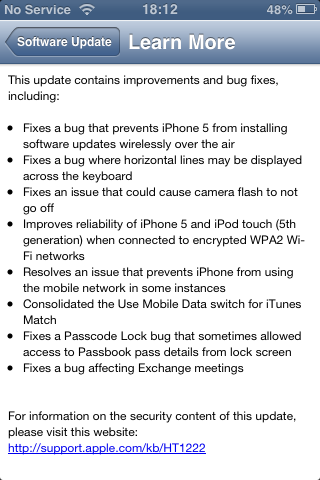 Apple has today pushed out the first minor bugfix to their recently released iOS 6 mobile operating system. The bugfix resolves several issues with the OS including, the camera flash not going off in some cases, a bug where the iPhone may not use the mobile network and improved the reliability of the iPhone 5 and iPod touch (5th gen) WPA2-encrypted Wi-Fi networks. For the full list, see below. It is interesting to note that iPhone 5 users must download an "updater" package via Software Update in order to download iOS 6.0.1 as updating the firmware over the air on the iPhone 5 does not work prior to this update.
iOS 6.0.1 Changelog
 Fixes a bug that prevents iPhone 5 from installing software updates wirelessly over the air
Fixes a bug where horizontal lines may be displayed across the keyboard
Fixes an issue that could cause camera flash to not go off
Improves reliability of iPhone 5 and iPod touch (5th generation) when connected to encrypted WPA2 Wi-Fi networks
Resolves an issue that prevents iPhone from using the mobile network in some instances
Consolidated the Use Mobile Data switch for iTunes Match
Fixes a Passcode Lock bug that sometimes allowed access to Passbook pass deetails from lock screen
Fixes a bug affecting Exchange meetings.
For the security conscious among you, iOS 6.0.1 also fixes a few security issues. The security documentation, outlined here, stops iOS applications from 'seeing' kernel addresses accidentally included in headers from API requests and fixes an issue with WebKit whereby JavaScript arrays were handled in such a way that could cause the browser to crash and/or malicious code executed.
In addition to this, iOS 6.1 has also been released to developers today. I haven't got access to a changelog yet as I am not enrolled in the iOS Developer Program, but as soon as I have I will update this story. Stay tuned!
Source: iOS Software Update screen
Via: MacRumours