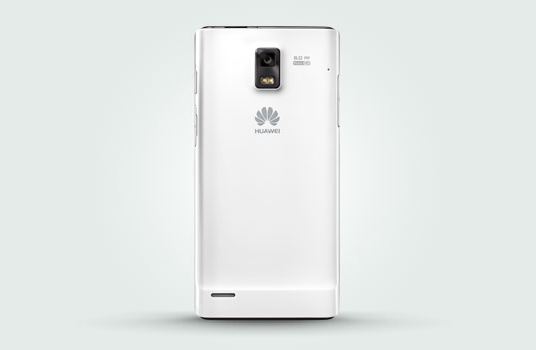 We loved the Ascend P1. A great design (albeit quite similar to the Galaxy S2), a great price and no clutter in the OS. Now Phones 4u have announced that they'll be doing the pearly white version exclusively. It's up for £299.95 on pay-as-you-go or for as little as £20.50 per month on contract deals.
The P1 runs Android Ice Cream Sandwich, has a 4.3″ qHD display, 8 megapixel rear shooter, 1.3 megapixel front shooter and a dual-core 1.5GHz CPU. It also packs DLNA, Bluetooth and is just 7.69mm thick.
More info in the press release below. Undecided ? Have a nose at our Ascend P1 review.
Huawei's Ascend P1 smartphone now available
in white exclusively from Phones 4u

Exclusive white version of the super-slim Huawei Ascend P1 smartphone available from Phones 4u on pay-monthly plans from O2, Orange, T-Mobile and Vodafone

London, October 29 2012: Huawei, a leading global information and communications technology (ICT) solutions provider, today announces availability of its powerful and elegant Ascend P1 smartphone in white exclusively from retailer Phones 4u. The white Ascend P1 is available from tomorrow from Phones 4u in store and online free from £20.50 a month on pay-monthly deals from O2, Orange, T-Mobile and Vodafone. It is also available on pay-as-you-go for £299.95.

The Ascend P1, running Google's Android 'Ice Cream Sandwich' operating system, combines beauty and brains. At just 7.69mm thick, it is among the slimmest smartphones on the market. Into this elegant frame, it packs a bright 4.3-inch screen, a powerful 1.5 GHz dual-core processor and a great 8 megapixel rear facing camera.

Iconic design refresh

Availability of the white version of the Ascend P1 through Phones 4u steps up Huawei's strategic partnership with the retailer in the UK.

Huawei Device UK and Ireland Executive Vice President Mark Mitchinson said: "Phones 4u has proven to be a leading retailer in the critically important youth and female market segments. The Ascend P1 has been recognised in the UK for its technology and its iconic good looks. The white variant brings a new dimension to its already-outstanding design, and will appeal to an audience which Phones 4u serves particularly well. We anticipate it will be a great hit with individualists looking to stand out from the crowd during this busy Christmas quarter."

Phones 4u Chief Commercial Officer Scott Hooton said: "Our partnership with Huawei has gone from strength to strength. Huawei continues to deliver premium, great-value smartphones to the market that have been extremely well received by customers looking for design and featured-led devices. The Ascend P1 further establishes Huawei as one of the leading smartphone brands in the UK, and one that continues to feature prominently in our extensive smartphone range. Our exclusivity on the Ascend P1 in white will offer Phones 4u customers great style as well as technological substance as we approach Christmas."

Looks, ease-of-use and power

The super-slim Ascend P1 looks good, fitting easily into a handbag or back pocket. Its stunning 4.3-inch Super AMOLED screen, protected by tough Gorilla Glass, brings imaging and video to life. Its 8 megapixel camera comes with autofocus, LED flash and HD video record, and makes for a fantastic sharp- shooter on the go. The latest BSI module means great photos even in low light, plus face recognition and panorama function. It also boasts a 1.3 megapixel camera which is great for video calls and Face Unlock.

The Ascend P1 is easy to use; the Android 'Ice Cream Sandwich' operating system delivers a seamless and intuitive smartphone experience, and Huawei's own HAP 5.1 interface allows one-step access to dedicated applications from the unlock screen, including calls, messaging and camera.

Most of all, the Ascend P1 is built for entertainment. Its powerful 1.5GHz dual-core processor, Dolby mobile sound and knock-out graphics chip make it ideal for mobile gaming, downloading movies from Google Play and catch-up TV. It is supported by a durable 1800mAh battery, optimised with Huawei's own signal detection technology to make the entertainment experience last longer, and fast HSDPA and Wi-Fi connectivity, to make tethering, downloading and sharing rich multimedia content a breeze.