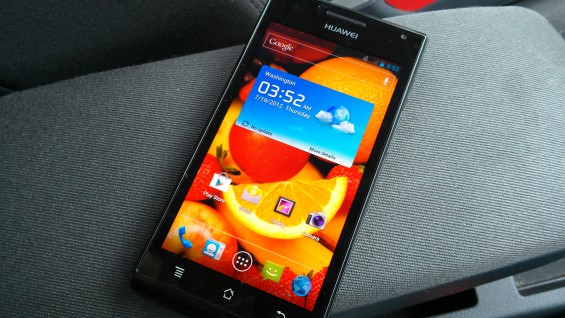 I'm going to start this review in a rather unconventional way. Bear with me.
Straight away. Gotta admit it. This really isn't bad. I mean sure, when I hold the Samsung Galaxy SII, then switch to this, there's an ever-so-slight quality difference. The camera sticks out ever-such-a-little too much at the back and the bezel feels a little thick.. but … I'm picking at flies. I mean, I'm really picking at some small, tiny, tiny, tiny flies here and probably I'm only treating this with bias because my SII is my daily driver.
Honestly, for around £26 a month this is dangerous.
Why do I say this? Well. Look at we have here. A large 4.3″ screen which, I really must say this, looks stunning. It has great build quality. It's very slim and has a modern, if a little angular, design. The camera is .. to be honest.. brilliant. It's quick too – that dual core 1.5GHz chip really performs. DLNA, ICS, Bluetooth. This packs quite a punch, and there's not a great deal of money needed to get in the ring.
Outside
The phone is very thin – 7.69mm to be precise. At the top is the charger. Yeah, it's at the top. The microUSB charging point also lets you move data around from the microSD card on the device. When you plug the cable into the device it'll ask you if you want to transfer files, camera transfer (PTP) or you can install HiSuite – a piece of software that'll come across to your P1 to manage data on your device.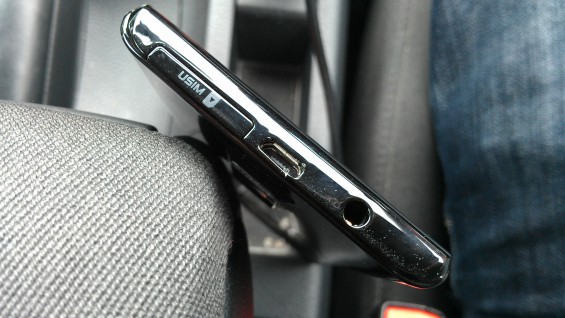 Next to the microUSB port is the USIM card slot – this phone takes the new small SIM card, aka a MicroSIM. The 3.5mm audio port is also up there.
To the right, the power button to wake the device and, if you press and hold, it'll let you enter Airplane mode, silent mode, power off or restart.

On the left, the volume up / down keys. Oh, and I should say that all the screenshots in this review were taken by pressing the volume "down" and power key at the same time.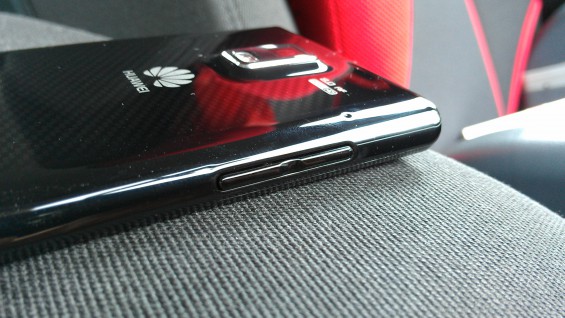 Up front, three keys are needed for ICS. They're backlit when needed. Menu opens up the appropriate menu, Home opens the home screen and – when held, it goes into your taks manager so that you can quickly switch between apps that are running. Lastly, the back button. No search button here.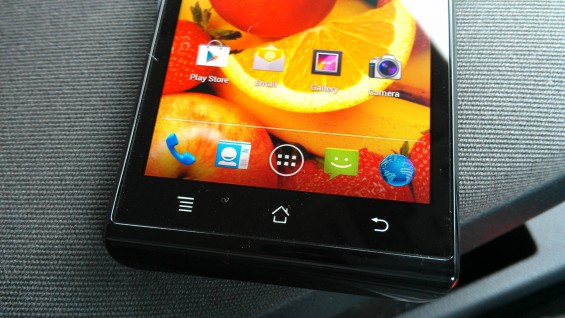 The screen is a joy to use. I honestly thought that the brightness was up full-blast when I started using it but no, it's just a really, really good AMOLED screen. Up top, above that screen, a 1.3 megapixel camera, earpiece with LED and light / proximity sensor.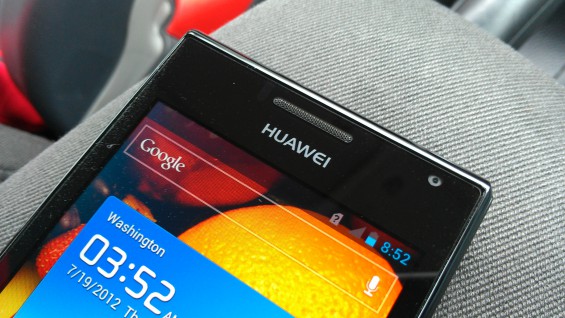 OK, round the back we've got the 8 megapixel camera with dual LED flash. It's slightly pronounced from the main rear section. That rear section, as you can see, has an interesting pattern and the Huawei logo. Down the bottom you can see the small "hump", similar to the SII from Samsung.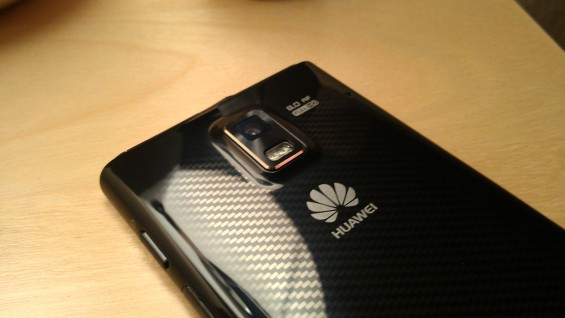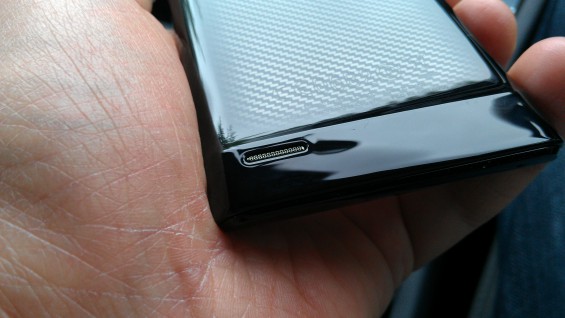 Inside
Again, bear with me here, I'm going to go off at a tangent. Huawei haven't messed about with ICS a great deal here, and the only Huawei app I could find was the DLNA system. The weather app has always "wowed" people on HTC phones. Here Huawei have made sure that the AccuWeather widget is front and centre and, when you click into it, you're met with rain drops on the screen, beautiful sunshine and sweet sound effects. It makes an impression.
Other nice touches include the keyboard, which I have to say was a joy to use. Sure, you can install your own if you wish, but the stock one performed so very well on this screen. The texting system used predictive dial for contacts, as did the dialer, so you only had to enter the first few letters of a name to call that person. As this is an Android device, your contacts are pulled down from Google, as are calendar appointments. You can also get further detail like birthdays, addresses and other important fields added easily.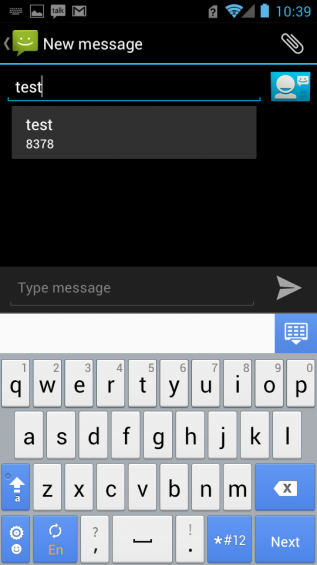 But, before we get to all that, there's the lock screen. You can access the camera, call-screen or messaging depending on the direction of your unlock swipe, which helps you to take pictures quicker as there's no dedicated camera key. Get into the settings and you can have different lock screens – 2D, 3D, Face Unlock and PIN / pattern unlock systems too. Oh, and you can also move around these shortcuts and change the apps that load.
The home screen itself is responsive and has a very colourful background. You can change all this of course and there's stacks of lovely backgrounds and live wallpaper. We switched to this "moving" live wallpaper to try and stress the CPU out a little but it didn't even cough. We then switched from the "2D" homescreen to the "3D" homescreen, which adds extra icon options and transition settings. Again, smooth as butter. One weird thing we did notice though was that "pressing and holding" on the 2D screen wouldn't let us add a widget, but doing the same thing on the 3D version would. Sure, we could still add widgets by going to the main app-drawer doing the bottom but it seemed like a possible fix might be needed for that.
Browsing was perfect, with pages rendered in a flash and text getting "reflowed" to fit on the screen. It was quick and simple. You can share pages, open several tabs and it was a joy to use.
Apps and Widgets are split onto two different tabs on the main listings. There's the usual apps you'd expect, like GMail, a fantastic Gallery, all the Google apps (Maps with Street View, Navigation for getting around via the in-built GPS, Google+, Talk, YouTube etc), Facebook and a Voice Dialer too. I liked the Movie Studio app quite a lot – it helped you cut together videos direct from your phone.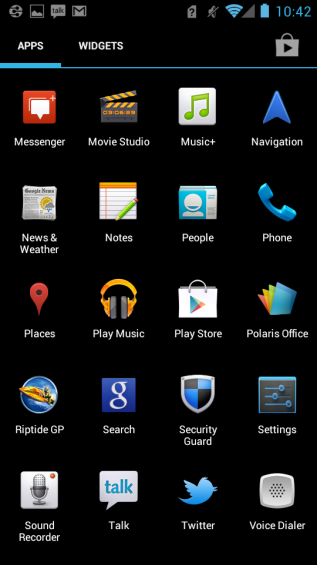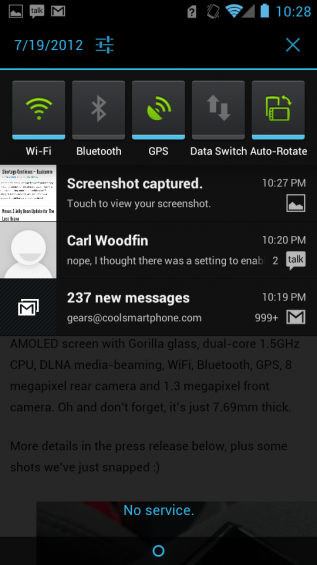 The Play Store, aka Google Play (previously known as Android Market) opens the door into many thousands of apps and you can grab as many as you please. The FM radio, which fires up when you have the headphones to act as an aerial, was a nice addition and Huawei have also added a range of sounds to attach to your ringtone, message alert and emails.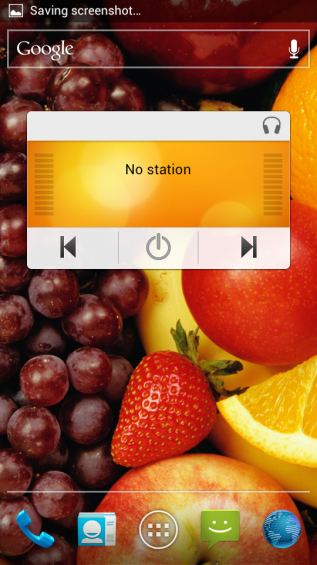 Camera
This shocked me. It was quick. Very quick. I expect some sort of lag from a phone camera, especially in low-light, but this had no jitter or lag when panning around in a dark room and the images it snapped were fantastic considering the price of this thing. There's a range of shooting modes, including Single shot, Group, HDR, Burst, Smile, Beauty, Panorama and Low light. Although, to be honest that last mode isn't really needed because the flash was really good. Really, really good.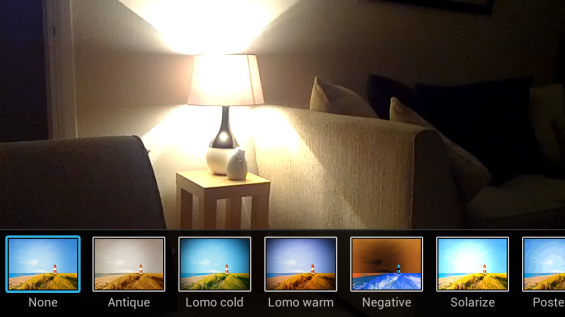 A range of live filters were also available (and when I say "a range", think of about 12), plus you could play about with people too – take a shot and choose the "Big nose" mode to give them a huge hooter. Loving this!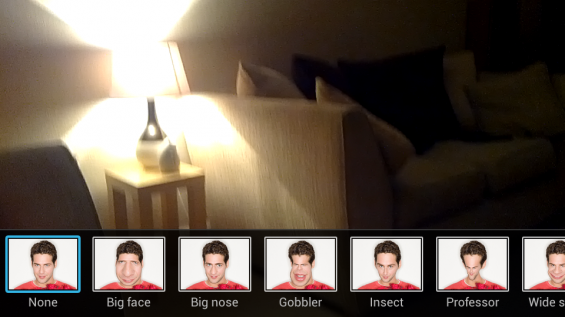 Red eye reduction? Got it.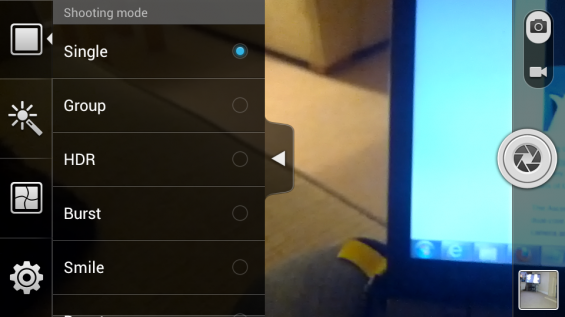 Videos were brilliant, with constant auto-focus ensuring that things didn't go blurry when you filmed something close-up and then switched to something far away.
Below you can see some example shots.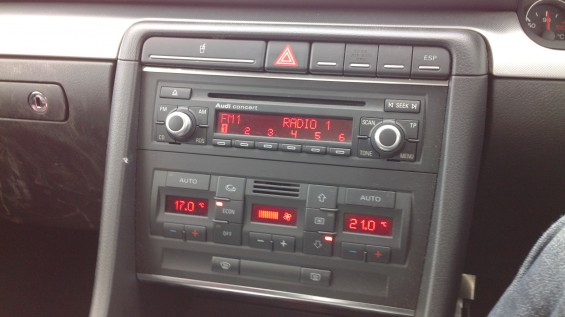 Conclusion
I'll be honest, at Mobile World Congress in Barcelona I was sniffing around the Huawei stand like a dog round a butcher, but I went into this with an open mind and set the bar pretty high with the Samsung Galaxy SII being my usual phone.
Sure, I found some very minor issues. But they were very minor. Tiny. This is an extremely good phone for the money. The battery life was more than sufficient, there were settings a-plenty and I strangely loved the fact that Huawei hadn't tinkered with the software too much. It performed extraordinarily well. I loved the screen. I loved the camera. I loved the smoothness and how thin it was.
In February, when I saw this and the other handsets in the Huawei range (the D quad will ruffle even more feathers when this appears), I knew that these were very competitive handsets. I thought that perhaps HTC could have something to worry about, but no. I was wrong. Huawei will, I firmly believe, give HTC, LG and yes, even Samsung, some stiff competition over the coming months and years. Keep an eye on these guys, because the Huawei Ascend P1 is a stonkingly good handset for the money.
Update – Since this review was written we've heard from Huawei. They tell us that the P1's rear case will be slightly different to the review sample we saw. It'll have an improved finish with a more premium feel. Also, we should point out that the battery is actually a 1800mAh, not the 1670mAh you may have seen mentioned elsewhere on the web.
Note – As usual we snap lots of shots for these reviews and not all photos make it in, so here's all the ones we took!