Ebook readers are something of a "do I need one" kind of device. We all have a normal phone, a large phone, a small tablet, a large tablet and a few laptops that can all be used to read ebooks. But when you see someone reading an Ebook on an E-Ink device you just want one.
The recent Amazon Kindle Paperwhite reader stirred up this want in me. This morning it seems that Barnes and Noble the rather large US Ebook supplier have started to sell their range of readers in the UK.
Starting with the Nook Simple Touch (£79.00) and the Nook Simple Touch Glowlight (£109.00) which are their e-ink models and the Nook HD (£159.00) and the Nook HD+ (£229.00) are up for pre-order.
The below graphic shows what each can offer spec wise: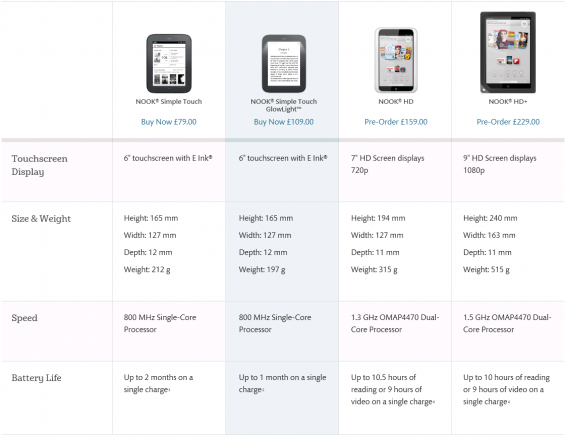 This basically gives you more options if you're looking for an ebook reader. What with the Kindles, Kobos and the sea of tablets to choose from. Let the price wars commence.
The pricing of these new Nook readers is obviously to provide direct competition with the Kindle range. Personally these all do look nicer than the Kindle equivalents and as they are all based on Android hacking these may be easier than the Kindles. So if you're interested head over to the
Source – Nook UK