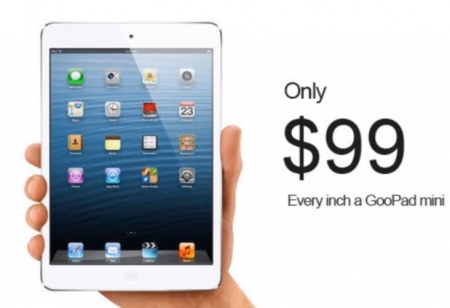 The iPad mini is here but, and this might surprise you, it's not as cheap as you'd hope.
But…
…the clones are here…
The GooPad mini has an 8″ 1024×768 screen, dual-core 1.4GHz CPU, 1GB RAM, 8 GB storage, a 2 megapixel rear cam, a 0.3 megapixel front camera and WiFi support. It'll run Android 4.1 and have a lookie-likey iLaunch OS to make your friends (who have to stand at least 20 feet away) think you've got the new iPad mini.
It'll be available from some slow and flaky Chinese website for $99 at some point in November. All we have right now is a YouTube video with a ripped image..
Link – Gizmo China