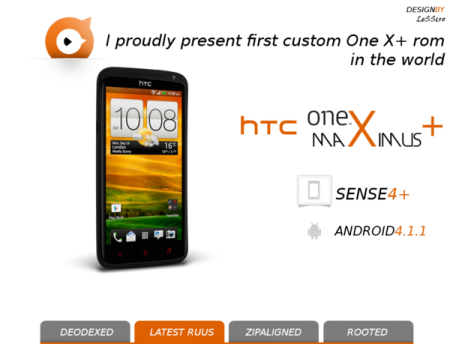 The HTC One X+ is the latest flagship in the HTC One range. It's been a controversial move by HTC, and much has already been made of the decision to release it so soon after the original One X. Well, the time for controversy is over as those lucky people who've pre-ordered the handsets will start receiving them this week.
Something they'll also be receiving is the chance to flash their shiney new phone with a custom ROM. Yes, the ROM community have beaten the retailers again. The team from team from maXimus have cooked up a Jelly Bean ROM for the One X+ with the following highlights:
Android 4.1.1
Sense 4+
Based on latest RUUs
Deodexed
Zipaligned
Rooted
Aroma Installer
Init.d capabilities
Sysro/sysrw
Unsecured boot.img
RAM optimizations
Added busybox
All apps updated
Tweaked for best performance
Fast and Smooth UI
Deleted bloatware
Deleted freedback apps
Ability to choose any language you want
General clean up
Added Solid Explorer, AdAway, Tegra Zone
This is great news for those people who want a beast of a handset without the bloatware to slow it down.
From what I can see it's a good balance between what HTC intended and what the more advanced user demands. In that respect I think that's also what HTC have done with the hardware when going from the One X to the One X+. By doubling the RAM from 1GB to 2GB, doing the same with the storage boosting it from 32GB to 64GB, and increasing the battery size from 1800 mAh to 2100 mAh, they've answered a lot of the criticisms people had about the original One X. Adding a 1.7GHz Tegra 3 quad core processor is a rather speedy cherry on the cake.
Whilst launching with Jelly Bean was obviously a must for the One X+, having immediate access to the maXimus ROM will only serve to make this a very tasty option to put on the list of Nexus alternatives for all those LG doubters out there.
Full One X+ specs can be found here.
Source: xda-developers