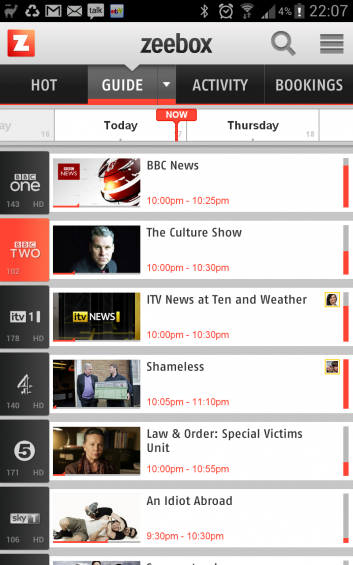 Got a Sky+ HD box? A Virgin Media Tivo box? Perhaps you have one of those clever Smart TV's that lets you play those "backed up movies" on your NAS drive?
Said yes to any of that? Good, because we need to talk about Zeebox.
The app, if I were to engage my "marketing speak", is a companion app that brings social feeds and thoughts into your viewing experience. Some call it "social viewing" some call it "augmented TV". It'll show you what TV shows people are talking about on Facebook and Twitter, then if you click into those shows you can see all the related apps for that show and other related content.
Right, back to my "grumpy techy mode" now. This app is particularly good not just because you can see what people are saying about a show, but it'll now talk to your TV, or your Tivo box, or your Sky+ HD box. It'll see what you're watching (even recorded shows) and it'll bring up related content on your phone as you watch it. It'll show you what others think, adding live feedback and chatter whilst you watch Nigella Lawson "whipping cream with full vigour".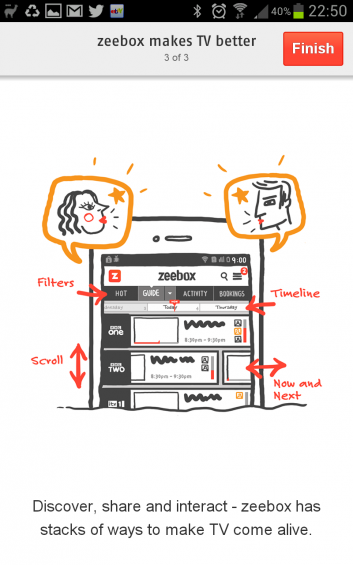 But wait, there's more. You can even control your TV with the app. Yes, yes, I know that can be done on the latest Sky+ app (on iOS) and I know that Samsung handsets can talk to Samsung Smart TV's etc but this, this is good. You get a very nice TV Guide and can change your Sky box to a new channel simply with a press.
We've given it a quick try this evening and, although there's a couple of bits that need ironing out (some channels won't change for some reason), it's simple and quick to setup and VERY friendly to use. The instructions and the layout of the app is easy to understand and fun to use. Oh, and if you don't want to connect to Facebook and Twitter then you don't have to – no embarrassing tweets telling everyone you're watching those "special programmes". Yes, I know … even I watched "Eddie Stobart, Trucks and Trailers"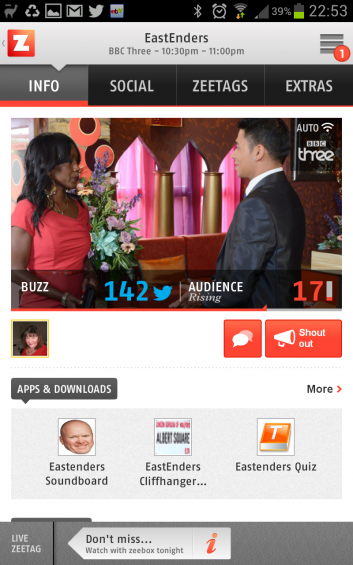 Do give this a try. You'll need to have your device on the same WiFi network as your Sky+ / Tivo box (and they'll need to be connected to your network of course), plus you'll need the latest software version on your set top boxes too. Have a nose at the supported devices if you're into your specs. It's like watching TV with thousands virtual friends.
Huge thanks to Terran Brown for opening my eyes to this rather excellent app. More shots below for you …
Update – The app has since been fixed so that channel selections work correctly on Sky+ boxes.
Link – Zeebox