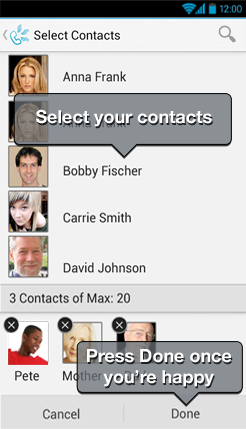 Hullomail, the fantastic cross-OS visual voicemail application has announced its new Group Calling proposition Hulloha! for Android. If this were an enterprise application, this would be called a conference call app, and the idea is the same.
There are no hidden calling charges as the group calling number will come out of your standard minutes, and anyone that calls into the group number won't be charged extra either.
You can set up your groups beforehand, and when you want to initiate the Alloha! call you merely click the start Group Call button. If you're willing to have that many people talking over each other at the same time, you can have up to 20 people on the line at the same time. There's a nifty little addition that as soon as you set up the group call, the system sends out text invites with the group call number included.
For more information, check out the Hullomail site. The Hullomail team also have an FAQ for those who need a little more information. One of the nicest things about this app (apart from the fact its free) is that it uses your standard allowance. With T-Mobile EE, Vodafone and Three all offering calling plans with unlimited voice calls for standard numbers, a lot of people will be good to go for talking as long as you want, for as many people as you can handle.
The Manage Groups option is free for a limited time, so get it whilst its hot.
HulloMail™ launches Hulloha!™ Group Call
Connect up to 20 people for a mobile conference call, for free
London, UK: HulloMail™ (www.hullomail.com), providers of the award-winning visual voicemail mobile app for smartphones, has introduced Hulloha!™ Group Call; a brand new mobile group calling app that lets up to 20 friends connect in two simple steps.
To arrange a Hulloha!™ Group Call, users simply choose the contacts they want to talk to from within the app and press the 'Start Group Call' button. Invitations are then automatically sent to each participant via a text message, which includes a dedicated Hulloha!™ Group Call number that everyone can use. Participants can call the Hulloha!™ number using any mobile phone, on any network.
Andy Munarriz, founder and CEO of HulloMail said; "With the launch of Hulloha!™ Group Call, we have made on-the-fly mobile conference calling as simple as possible. There is no complicated sign-up or registration; instead users can arrange a call with up to 20 friends or colleagues in literally two steps. It is also zero-cost if the participants are within their agreed minutes, meaning users can access a group call with no hidden costs."
Pricing and Availability:
Hulloha!™ Group Call is available now for Android users to download, for free, (version 2.2 and upwards) via Google Play: https://play.google.com/store/apps/details?id=com.hullomail.hulloha.
Hulloha!™ Group Calls are free if users are within their monthly bundled allowances. When monthly allowances are exceeded, network providers will charge according to network standard rates and individual price plans. Users are advised to check their price plans.
For more information regarding HulloMail and the Hulloha!™ Group Call service, visitwww.hullomail.com.