Today on the UK version of the Amazon Appstore you can get the hugely popular Android replacement keyboard app Thumb Keyboard for free. Saving yourself 94p
Thumb Keyboard for Android™ is a keyboard with many, advanced customization options that allows the user to adjust it to his or her preferences. This groundbreaking keyboard introduces a lot of innovations. Besides a standard layout it has a new (patent pending) "split" layout for tablets and phones that makes thumb typing more natural and comfortable. It also introduces a lot of useful and advanced functions that will improve your productivity and makes typing on your mobile device more fun.

FLEXIBLE KEYBOARD LAYOUTS
• Full featured standard layouts
• Split layouts for tablets and large screen devices: Better accessible keys for thumb-typing on large and small tablets and 4″+ phones
• Special tailored layouts for phones, 5″ 'phablets', 7″ tablets and 9-10″ tablets
• Option to select separate layouts for portrait and landscape
• One-handed operation mode for large-screen phones

No more unnatural stretching or juggling with your tablet or phone…

STATE OF THE ART KEYBOARD TECHNOLOGY
• Continuous Voice Recognition (Android 4.x): real time voice recognition using the latest Google Voice typing service
• Multi-touch
• Variable key spacing
• Long press symbols and characters (customizable)
• Auto-correction
• Keyboard shortcuts
• Text to speech feedback
• Voice input (Non Continuous for Android 2.2 and higher)
• Bigram word prediction (predict word based on previous word – for Android 2.3 and higher.)
• Swipe gesture support
• Adjustable keyclick volume
• User dictionary
• 3D "coverflow" theme browser with 25+ themes

FULLY CUSTOMIZABLE
• Option to change the long press symbols on the letter keys!
• Save much used phrases and enter with a touch of a button
• 25+ Themes
• Optional user customizable tool bar
• Height and width fully customizable (including separate elements)
• Change colors of keys, font etc.
• Customizable background (choose your own image)
• Full color customization!
Here are a few shots showing what it's all about.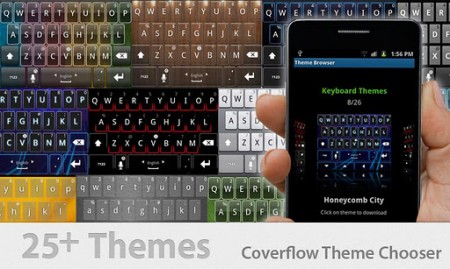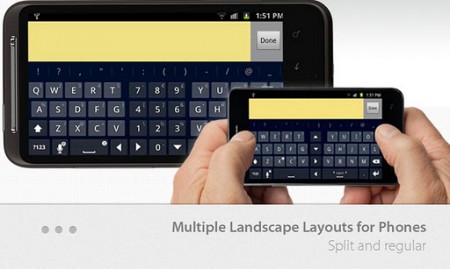 Here is a quick video demoing some of the apps features.
So if you have wanting to try this out and you just didn't want to buy it or you are a Swiftkey die-hard then maybe today is the day to try something different. I can't link to the app itself on the Amazon Appstore but if you run the Appstore today you'll see it.
Or if you haven't got the Appstore, head to this link on your device to install it and then you should see the app of the day.