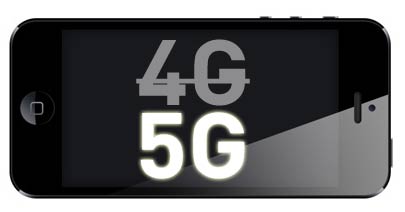 The 4G LTE network roll-out in the UK is in its infancy; very few places have coverage, only a few compatible handsets are available to buy and there aren't any tariffs at all.
So, everyone's concentrating on getting high speed 4G mobile broadband to the masses, right?
Wrong. You see, the actual 4G technology is developed and ready to go. A lot of North America and the Far East has been using 4G for well over a year or more, it's just that the infrastructure isn't fully implemented in the UK yet. That's why engineers are looking to develop the fifth generation of mobile data communications now – 5G (see what they've done there?).
Surrey University have received £35m from mobile operators, infrastructure providers and the UK Research Partnership Investment Fund to fund research into 5G, which they are using to create a 5G Innovation Centre, the university's spokesman announced.
Work has already started. Prof Rahim Tafozolli, professor of mobile wireless communications and the director of Surrey University's Centre for Communications Systems Research, said:
"The boundaries between mobile communication and the internet are blurring, so the fifth generation is internet on the move. 4G for us is old hat. We started working on 4G 10 years ago. Being a university we have to be one step ahead of industry."
With mobile data usage growing at a staggering rate as it is, 4G will only serve to accelerate it by letting people download more in less time.
"It looks like every year the traffic is doubling. Unfortunately capacity is not doubling every year. We need to come up with technology, within the limited radio spectrum that we have, to accommodate this huge surge."
Professor Tafozolli added that efficiency is another factor:
"The cost of electricity of running the networks is very high. We are facing systems which are too expensive. We need something extremely energy efficient and cost efficient. What we have is good for the next 10 years. We need to be progressive, we can't be complacent, the area is extremely dynamic."
Don't hold back on your next phone upgrade though, because 5G won't be in place until the year 2020. Coolsmartphone will, of course, be there to cover it!
Source: BBC