A few weeks ago we got hold of the Xperia Miro for review and we quickly posted up our initial impressions. The Miro is one of the entry level devices from Sony and in the same way as with the Tipo we reviewed a while back, I was amazed that it came running Ice Cream Sandwich.
The budget Miro did have good and bad points though, the hvga screen made icons and pictures a little blurry at times and the overall build felt a little plasticy. In it's favour though the Miro felt solid (although plasticy), it came we a fairly up to date version of Android and the whole Sony Xperia skin felt nice and fluid.
After a few weeks of using it, now is the time to bring you our final review.
Hardware
The spec of the Miro is basic, it's pretty much the same as the Tipo. Just the screen and casing are larger. Having a removable battery and a MicroSD card slot are both nice additions. The screen being hvga and using a slightly bigger panel does highlight the low quality of the screen, meaning reading text on a website zoomed in may be a little blurry and some of the icons used in the UI look a little jagged.
The spec for the Miro is as follows:
Dimensions – 113 x 59.4 x 9.9 mm
Weight – 110 g
Touch – sensitive controls
Display – LED-backlit LCD 16M colours
Display size – HVGA 320 x 480 pixels, 3.5 inches (165 ppi pixel density)
Protection – Scratch-resistant glass
MicroSD, up to 32 GB
Internal memory – 4 GB storage (2.2 GB user available), 512 MB RAM
Camera 5MP, autofocus, LED flash
Camera features – Geo-tagging, touch focus, face and smile detection, 3D sweep panorama
Android 4.0 (Ice Cream Sandwich)
Chipset – Qualcomm MSM7225A
CPU – 800 MHz Cortex-A5
GPU – Adreno 200
Battery – Li-Ion 1500 mAh
Design
The Miro is a nice looking device, albeit a bit plasticy. The curved edges around the back combined with the soft touch back panel give the Miro a nice feel in the hand. The placement of the power button on the top left hand edge makes it a little fiddly for left handed people to turn it on, I'm a great fan of power buttons on the right hand edge (cheers Samsung).
Here are some photos of the Miro:
Software
If you ever hear a manufacturer or carrier saying that old or low spec devices can't run Ice Cream Sandwich point them in the direction of the entry level Sony devices. The Tipo and the Miro are both nice devices that run Android 4.0 with an 800 MHz CPU and only 512 MB of RAM. They do this without much hassle, only pausing know and again to catch up.
With the Advent of Ice Cream Sandwich nearly a year ago Android devices became an extension of our normal PC web browsers (as long as you use Chrome) which for me is very useful. Being able to synchronise my bookmarks across devices is great. Although Chrome for Android is a bit of a resource hog, at times making the Miro pause to catch up.
The whole Sony Xperia experience is a pleasant one, the have skinned most of the stock apps, mainly for the better and they have included a whole host of widgets for multimedia and social media stuff. The stock widgets are also present so you can really set the Miro up however you want.
The camera on the Miro comes with a flash and is a 5MP snapper, there is also a front facing camera as well for taking pictures of your face or for video calls. The settings holds a variety of things you can play about with, including a few focus modes but no macro mode.
Below are a few sample shots of what the camera is like in a well lit field.
And an example of an up close photo of a keyboard where macro mode would have helped.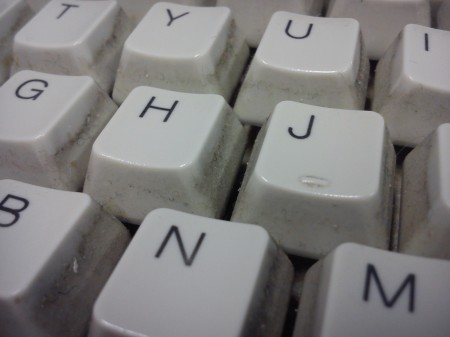 For the target market the camera will suffice, it's definitely better than the 3MP camera on the Tipo that didn't have a flash.
Sony phones have always being multi media centric and the Miro is the same, you get the feel a teenager with a memory card full of music will be using this phone quite a lot. The quality of the sound using some third party headphones is pretty good, no hiss and the phone has a graphic equaliser allowing you to tinker with the sound. Sony have also added a booster to the rear speaker. Which makes it really quite loud, perfect for playing odd music out loud on the back of bus.
YouTube, BBC iPlayer, TV Catchup and flash video on websites all work as you'd expect. So wave goodbye to your data limits. WIFI does make these apps a lot more usable especially YouTube which shifts into HD mode.
Conclusion
Overall the Miro is a great phone; for the target market anyway. It can be picked up on contract with Vodafone starting at £13 per month and on payg for £130 again on Vodafone. It's also available Sim Free from about £170
If the screen had been a little bit better, say WVGA it could have been one of those phone that capture the hacking communities hearts. As it is it will become one of those also ran phones that just get cheaper and cheaper on contract.
Sony are in danger of releasing too many budget devices, the differences between this and the Tipo are tiny. It almost seems like they are making them for specific networks. Companies really need to start making 3 or 4 devices per year and leave it at that.