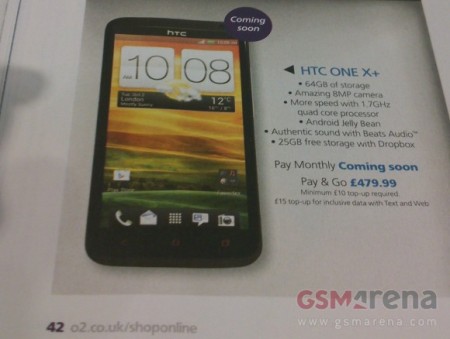 Recently there were rumours going around that HTC were going to give their flagship Android device, the One X, a makeover and giving it the name of One X+. Well, HTC haven't actually officially confirmed this handset even exists, but O2 have been more than obliging by printing it in their most recent in-store catalogue!
The photo looks identical to a jet black One X, and the text is hardly a comprehensive list of specs, but it does reveal that it will have a 1.7GHz quad core processor, an "amazing" 8MP camera, Beats Audio, Android 4.1 Jelly Bean and 64GB of internal memory. Additional 25GB of Dropbox storage will also be available.
The One X is already a very high spec device, but it is lacking user storage memory and (for now) Jelly Bean, so these things alone make it a more desirable.
Modaco are also quoted as saying:
We can also exclusively reveal that unlike the One X which has a traditional split memory layout between the data partition and a virtual SD card, the One X+ has the storage partitioned as one big chuck like the Galaxy Nexus devices. This is a good thing!
We agree!
The major complaint about the One X is battery life, and it's still unclear whether the One X+ will pack a bigger battery. If the faster processor is more battery hungry (which is likely), this could make the One X+ a charge-it-twice-a-day phone for heavy users. Not exactly practical.
Prepay on O2 is shown as £479.99, but contract deals and release dates are to be confirmed.
When you consider that the 64 GB version of the iPhone 5 is currently £719.99 on O2, that's a lot of bang you're getting for significantly less buck.