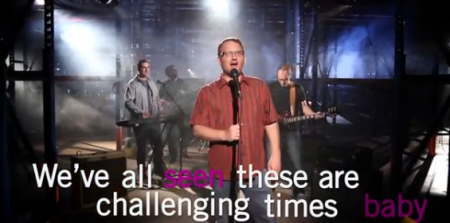 "Because sometimes it just has to be said through music". We suspect someone in RIM uttered those words, and to show the world that the RIM execs have a sense of humour, a music video was born and posted on youtube.
One of the most amusing thing has to be the sense of nostalgia with the guitar riffs running throughout and the earnest look on the singers face. Just in case the message RIM wants to put across isn't received, check out the subtitles running underneath.
That's what I'd call a Jam Session.
The explanation on the RIM track is as follows:
"This video is a thank you to all developers supporting the BlackBerry platform. Your Developer Relations, Alliance and Developer Tools teams appreciate your enthusiasm and loyalty! We're Going To Keep On Loving You. Shown at BlackBerry Jam Americas Sept 2012.
We are going to keep loving developers at Research In Motion, all the way to BlackBerry 10 and beyond. Watch our leadership team for developer relations bring back the band: Alec Saunders, VP Developer Relations & Ecosystem, Chris Smith, VP Application Platform & Tools, and Martyn Mallick, VP Global Alliances & Business. Thank you to those devs who are working hard, and for those jumping on board every day. Stay updated at http://developer.blackberry.com and http://devblog.blackberry.com. Let's Rock and Roll This!"
source: youtube