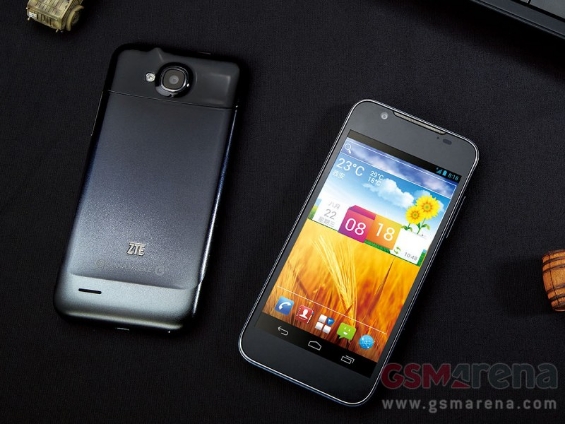 ZTE has announced its latest handset to the world at the PT/EXPO COMM in China.  The Grand Era U985 will be available in China within the next few days.
The Grand Era U985 will be powered by a quad-core Nvidia Tegra 3 processor and will run Android 4.0 Ice Cream Sandwich.
The device will have a 4.5″ screen with a 1280×720 resolution and an 8mp camera.  It is being touted as the worlds thinnest quad-core handset with an average thickness of just 8.6mm and it is 7.9mm at its thinnest.
There is no word yet as to availability for the rest of the world.
The full press release is below.
ZTE Grand Era U985, World's Slimmest Quad-Core Smartphone, available in China within days

Company also to display range of products at PT/EXPO COMM CHINA 2012

 

18 September 2012, Shenzhen, China – ZTE Corporation ("ZTE") (H share stock code:0763.HK / A share stock code: 000063.SZ), a publicly-listed global provider of telecommunications equipment, network solutions and mobile devices, has announced at PT/EXPO COMM CHINA 2012 that its ultra-thin quad-core Grand Era U985 smartphone will go on sale in China in the next few days.

During the expo, the company will also display a range of cutting-edge products such as smartphones, tablet PCs and high-speed data cards and chips.

The Grand Era U985 is a historical breakthrough in China 'domestic' handsets. The TD-SCDMA handset contains a PC-class Nvidia Tegra 3 quad-core CPU and operates on the advanced Android 4.0 platform. It also has 3D acceleration capacity, an 8M-pixel BSI AF HD camera and a 4.5-inch HD retinal screen at a resolution of 1280×720. It is ultra-thin, with an average thickness of 8.6mm and a thickness of 7.9mm at its slimmest section. It is currently the thinnest available quad-core handset.

The Grand Era also comes with a device security suite called Palm Manager, which was independently developed by ZTE in response to increasingly malicious threats to mobile phone security. It includes both software and hardware components which monitor permissions for installed applications and protect user information in relation to power management, traffic monitoring, software management and security protection.

"The Grand Era has opened the door to the quad-core era for ZTE smart phones," said ZTE Executive Vice President Mr. He Shiyou. "We believe these products will produce a butterfly effect across the industry, domestically and abroad."

ZTE will also display additional powerful quad-core phone models at the expo including the Grand Era V985 and the Grand Era LTE. It will also display dual-core HD terminal products such as the Grand V970 and Grand U930.
Image: GSMArena