Chameleon Launcher overnight has turned into a general release that anyone can buy now. Previosuly it was for Kickstarter backers or pre-order people.
Over the last few weeks there has been quite a few updates to the app, making it more stable and adding further widgets.
It feels a lot nicer and it is a lot more usable in it's current state than it did when it initially came out. There are a few nice new widgets included in the current version. The YouTube widget is useful and the Switches widget is also a quick way of turning wifi on and off.
There are also some widgets coming soon as well, the Calendar, Google+ and Media Player widgets will be great additions. They have the original beta app and a new app, the new app shows these widgets in the list so I'm unsure whether they are already out.
The other interesting thing they have done is to open up the API for widget creation to developers, so expect third party widgets to come out soon. Oh and another thing is the time or location sensitive side to the app, at certain times or locations it will change you layout around for you. which could be useful to some.
The only slight thing is the price, the new public version costs £6.42 which is a bit better than what I paid to pre-order it. But it costs more than other launchers and offer less functionality. Although it does have potential to be better than the rest, only time will tell.
Play Store Link –  Chameleon
They have made a video demonstrating some of the features as well:
Here are some shots of Chameleon: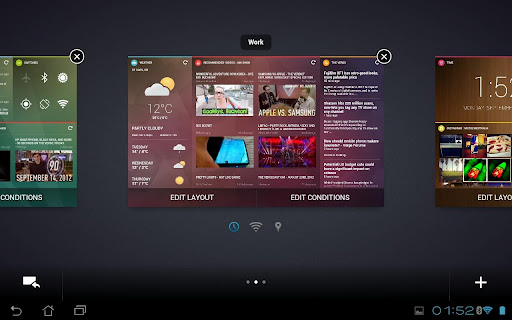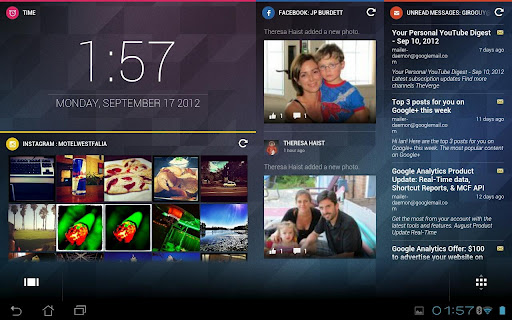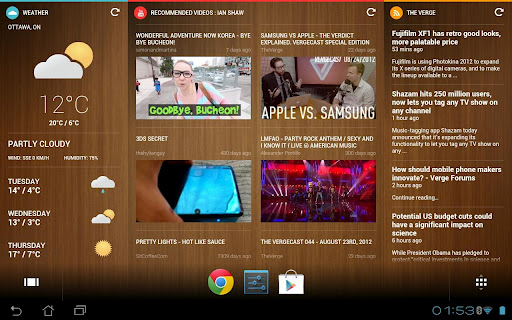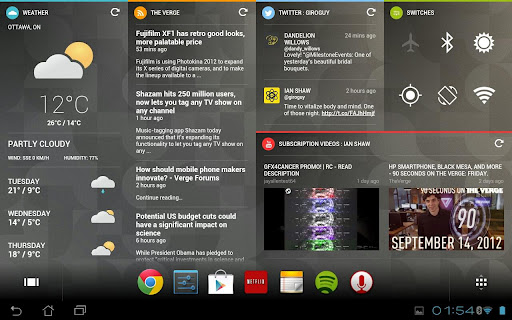 Here is the marketing blurb from Teknision the developers:
Chameleon is a revolutionary tablet-specific launcher that lets you create multiple home screens, each with your own layout of widgets and apps. The Chameleon system includes an innovative context based home screen system giving you the most relevant information that you want, when you want it.

The Next Generation of Widgets.

Android widgets are not all created equally – and that's the problem – so we decided to raise the bar. The result is widgets that look beautiful together and are as easy to layout as drawing on a screen. Take a look at some of our other widgets or build your own with our custom API.

Calendar
Clock
Facebook
Google+
Instagram
Media Player (Coming soon)
RSS News Reader
Switches
Twitter
YouTube

Home Screens that Change With You

Your information needs may change throughout your day, so Chameleon includes an innovative context system. You can create context rules based on GPS locations, WiFi networks and time ranges, allowing you to define which Home Screen is the most relevant for any situation.

App Tray & Launcher

Chameleon doesn't just let you customize your Home Screens with the widgets you want. It also lets you customize your own mini App Tray. Giving you the apps you want up front, without having to swim through a large grid of apps.

Super Easy To Customize

Quickly set up Home Screens, Widgets, App Trays, and Wallpapers all with a few gestures.

Chameleon. Always relevant. Immediately valuable.