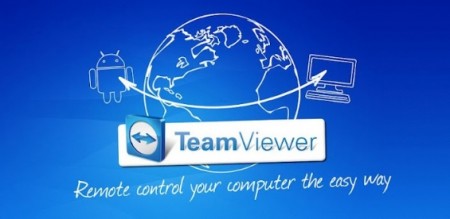 Teamviewer, the remote desktop application has announced an update that now enables file transfers between your android device and your computer from anywhere in the world with a data connection.  The computer can be a Mac or a PC running Windows or Linux.
The data is sent using a secure connection whereby you can either take control of the host computer or login to remotely transfer files to or from your pc.
The app works on Android versions 1.6 and above and is free for private use from Google Play.
The full press release and screenshots are below:
TeamViewer® Announces Updated App for File Transfer Between Android Devices and Computers

 

Users can now transfer any file from their Android device to any computer (and vice versa)

 

Tampa, Florida, September 13, 2012 – TeamViewer®, one of the world's most popular providers of remote control and online meetings software, today announced a new version of its TeamViewer for Remote Control Android app. The update allows TeamViewer 7 users now also to transfer files and folders from their Android mobile device to any Windows, Mac or Linux computer, and vice versa.

The TeamViewer for Remote Control app enables remote access to a computer via Android devices over a secure connection, e.g. in order to support friends and family with computer problems, or when access to a home or office computer is needed while on the road. The new app offers also the ability not just to look at files, but actually transfer them from and to a device. This can be practical on many occasions: When users need to access important work-related files on the go they can now use their Android device wherever they are and transfer these files onto their smartphone or tablet. This is great for anyone who does a lot of business travel. All of your important documents pertaining to work are flexibly available regardless of location.

In addition to the benefits provided to the enterprise, consumers can also instantly access files such as pictures, videos or music any time and transfer them to their Android device. This is great for the proud parents who would like to share photos of their children while visiting family or for college students who need to transfer music from their computer to their phone while on the way to class.

"We are very excited to announce the new version of our TeamViewer for Remote Control app for Android," said Holger Felgner, General Manager at TeamViewer. "We understand that having flexible access to important files while on the go is extremely important to our customers. Now with the new version of the app, Android users will be able to transfer files to their smartphones or tablets allowing them to stay connected with the pictures, music, videos and documents that matter to them the most."

Pricing and availability

TeamViewer for Remote Control is available in Google Play and at www.teamviewer.com/mobile.