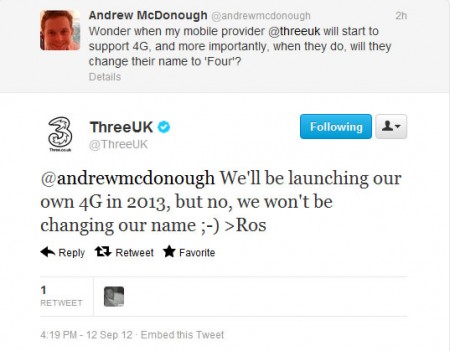 EE had their big launch yesterday, and will become the UK's first 4G network – but for how long?
A running joke developed over the day about what rival network Three would call itself once it launched a 4G service, but the bigger question would be how EE's rivals would respond.
Well Three have answered on Twitter, and aside from not changing their name, they have confirmed they will launch 4G in 2013.
Now that's not exactly unveiling their entire strategy we will admit, but, that's a significant piece of information none the less.
To be fair, Three were most likely to be next, having recently purchased some spectrum specifically for that purpose, but given the limited initial roll out of the EE network, if Three can do something similar next year, it will be interesting to see what effect that has on EE's pricing and where that leaves O2 and Vodafone.
EE have yet to release their price plans, and their current networks are not know for brilliant data pricing, whereas Three have successfully championed "All you can eat" data. With a faster service, that plan data limit is going to be absolutely critical.
From a customer perspective, being on Three currently, that's enough to keep me there and not even think about going to EE. I currently get 6-8mbs on Three's 3G service, which is all EE are promising for 4G – so I'll very happily stay put now.
Will this affect your decision on whether or not to go to EE?
Link – Three tweet