We're all about the cool and funky here at CoolSmartPhone.com.
It's true to say we love a bit of innovation and being on the leading edge of news. But we also love the art of the possible and have stumbled upon what could quite possibly be the sexiest, sleekest, utterly uber cool iPhone dock there has ever been could be….
Behold… the Foundation Dock –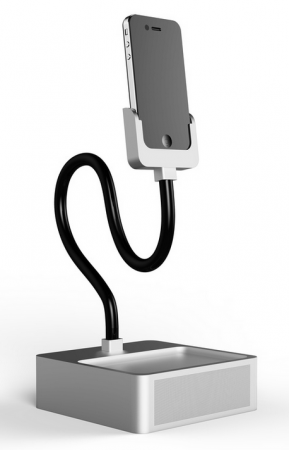 Quoted from their site "The Foundation Dock is an elegant evolution of the iPhone cradle that clears the clutter from your workstation and consolidates your desktop devices into one hub.
The Foundation Dock is a solid aluminum CNC machined iPhone dock with built-in speakers, a microphone, Shielded Audio Line out, 4 additional powered USB ports, and a mini USB.
The Dock has a flexible cable that allows you to easily position your iPhone in any viewing angle, height or orientation by twisting, bending and locking into any position. 
The flexible cable is 16 inches long, allowing it to be wrapped around objects or coiled into its own stand for self portraits or facetime calls. It can even be positioned horizontally for document scanning or photography. The flexible cable can go anywhere you do, turning your car or living room into a roving workstation, and works perfectly with iMacs and their rear facing USB ports.
It comes in 5 brilliant fashionable colors to match any decor or mood – Bright White, Kickstarter Green, Brilliant Blue, Fresh Orange, and Pitch Black. Each cable is made from soft pliable rubber instead of steel or aluminum, ensuring none of your precious Apple products get scratched.
The CNC Machined aluminum slide in cradle keeps your Iphone secure and eliminates any abuse to the phone's charger port. The slide in cradle works with or without a case, and makes viewing in landscape or portrait a breeze by supporting the weight of the phone in any position."
I am quite in awe of this, I like the thought of a solid aluminium base for a dock so I don't have to use both hands just to hold the thing in place while I glide around my phone features, and having 4 USB ports on the rear is a REAL plus.
Can these guys bring it in to production? Who knows – but here is the Kickstarter Project for those interested, which has a great video!