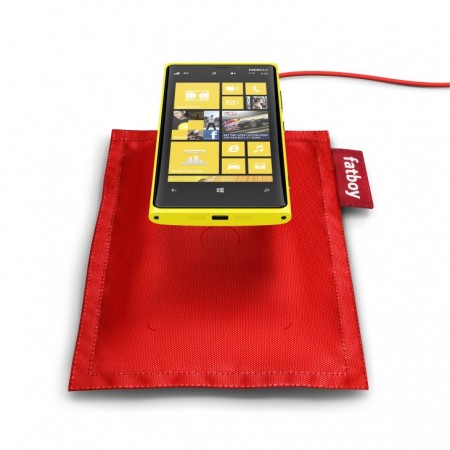 A wireless charging pillow, advanced camera technology and a screen that detects the presence of skin, gloved fingers, or fingernails. The Lumia 920 and 820 are due to arrive "in Q4″ although we've not been given pricing just yet. What is also a bit strange is the fact that there's no mention of carriers / networks or more accurate launch details. Microsoft and Nokia normally make a big deal about the networks that are picking up their phones, so where were they?
Built-in wireless charging technology and a meaty 2000mAh battery should mean that your new Windows Phone 8-powered Lumia is on for longer, with Virgin, Coffee Bean & Tea Leaf all pledging to provide wireless charging points.
The 920 has a large 4.5" HD+ WXGA IPS "Super Sensitive" screen whilst the 820 has a 4.3″ ClearBlack OLED WVGA 800×480 screen. Both have "Sunlight Readability Enhancements" and both are powered by 1.5GHz Dual core Snapdragon S4 processors.
The Lumia 920 has an 8.7 megapixel Nokia PureView Carl Zeiss camera with full 1080HD video capture and a second 1.2 megapixel front camera. That rear camera has "floating lens technology" which should capture up to 10 times more light and results in superior photos in any condition. "PureView" has ceased to mean "41 megapixel" and is now getting thrown about as a marketing term.
There's 1GB of RAM and 32GB of "mass storage". The 820 has an 8 megapixel Carl Zeiss camera with full 1080HD capture and a second VGA front camera.
Whilst both have wireless charging (although the 820 needs an extra case to make it work), the 820 has a 1650mAh battery compared to the 2000mAh battery in the 920. A funky pillow can charge the phone whilst at rest.
An augmented reality app called "City Lens" can be used to show nearby restaurants, cash machines on other points of interest as you hold the camera up.
Oh, and in Windows Phone 8 we'll be able to take screenshots too ! Yay 🙂
However, although the launch is in the news today, we'll have to wait to see how many people choose a Nokia in the coming months.
Full details below..
New Nokia Lumia Range Delivers Latest PureView Camera Innovation, New Navigation Experiences and Wireless Charging on Windows Phone 8

Nokia Lumia 920 Captures Best Pictures and Video Ever Seen on a Smartphone

Espoo, Finland and New York, NY – Nokia today announced the Nokia Lumia 920 and the Nokia Lumia 820, the first devices in Nokia's Windows Phone 8 range.

The Nokia Lumia 920 is the flagship Windows Phone 8 smartphone, including the latest advances in Nokia PureView imaging innovation. Using advanced floating lens technology, the camera in the Nokia Lumia 920 is able to take in five times more light than competing smartphones without using flash, making it possible to capture clear, bright pictures and video indoors and at night. It also compensates for hand movement while the photo is being taken.

"Nokia PureView continues to deliver cutting-edge technology to make it possible for a smartphone camera to take the kind of images usually only seen on a standalone SLR camera," said Jo Harlow, executive vice president of Nokia Smart Devices. "With the Nokia Lumia 920 we have made it possible to shoot pictures and video at home, outdoors, in a restaurant or even at night, and come out with professional-looking results."

"We view imaging as a core area for differentiation in the smartphone space," said Crawford Del Prete, Executive VP WW Products and Chief Research Officer, IDC. "Low light photography has been a weak point for smartphones. Nokia has addressed this with PureView to create real customer value. By applying its rich expertise in imaging Nokia has created a best of breed experience for everyday use."

The Nokia Lumia 920 also comes with Nokia City Lens, the latest addition to the Nokia location suite. By pointing the camera at a city street, City Lens overlays information about restaurants, shops, hotels and more on the surfaces of buildings, for the most intuitive way to explore surroundings. Nokia City Lens is the start of a new augmented reality experience that also enhances Nokia Maps, making it possible to move between maps view and augmented reality view to help people check their direction and surroundings. Along with enhancements to Nokia Drive and Nokia Transport, the Nokia location suite of services represents the most comprehensive, integrated mapping experience of any smartphone.

The Nokia Lumia 920 also comes with Nokia's largest ever battery (2000mAh) and, for the first time, built-in wireless charging for an easy, convenient way to get more out of every day.

The Nokia Lumia 820

The Nokia Lumia 820 is a stylish, mid-range smartphone that delivers high-end performance in a compact package.

While the Nokia Lumia 820 has the same unibody look and feel as the high end Lumia smartphones, it comes with an exchangeable shell design. Exchangeable shells not only make it possible to select from a range of colors, but also to add wireless charging. Beneath the shell is room to insert a micro SD memory card.

Powered by Windows Phone 8

Windows Phone 8 provides a more personal smartphone experience, with a start screen that can be more easily rearranged to reflect individual priorities and new animated Live Tiles for real-time updates on the things that matter most. The ability to sync content between Windows Phone 8 smartphones, Windows 8-based PCs and tablets or Xbox means files, music, pictures and video can be accessed in whichever way is most convenient. With Internet Explorer 10 for faster, safer browsing and Microsoft Office apps built into the platform, Windows Phone 8 is also the easiest way for getting things done.

Wireless charging partners

Nokia also announced a range of wireless charging accessories and partnerships. The Fatboy Recharge Pillow provides a fun way to recharge, while JBL introduced the JBL PowerUP, a wireless charging docking station with high quality audio in retro styling.

Deals with Virgin Atlantic to put wireless charging stations in the London Heathrow Clubhouse lounge and Coffee Bean & Tea Leaf to put charging plates on tables in some of their cafés, were the first of many deals Nokia intends to sign to take wireless charging outside the home and office.

Availability

The Nokia Lumia 920 comes in yellow, red, grey, white and black. The Nokia Lumia 820 comes in red, yellow, grey, cyan, purple, white and black.

Both phones will be available in pentaband LTE and HSPA+ variants and are expected to start shipping in select markets later in the year. Nokia will announce pricing and specific roll-out dates country by country when sales are due to begin.

Product speficiations:

 
Nokia Lumia 920
Nokia Lumia 820
Display
4.5 inch Nokia PureMotion HD+ WXGA IPS LCD
Super Sensitive touch
Nokia ClearBlack with high brightness mode and Sunlight Readability Enhancements
4.3 inch ClearBlack OLED WVGA 800×480
Super Sensitive touch
Nokia ClearBlack with high brightness mode and Sunlight Readability Enhancements
Battery
2000mAh with integrated Qi wireless charging
1650mAh with support for Qi wireless charging
Processor
1.5GHz Dual Core Snapdragon S4
1.5GHz Dual Core Snapdragon S4
Main camera
8.7MP with Nokia PureView advanced optical imaging stabilization and Carl Zeiss optics
Full 1080p HD video capture at 30fps
8MP Auto Focus with Carl Zeiss optics
Dual LED flash
Full HD 1080p video capture at 30fps
Front facing camera
1.2MP with 720p HD video
VGA
Memory
1GB RAM
32GB mass memory with 7GB free SkyDrive storage
1GB RAM
8GB mass memory with microSD memory card support and 7GB free SkyDrive storage