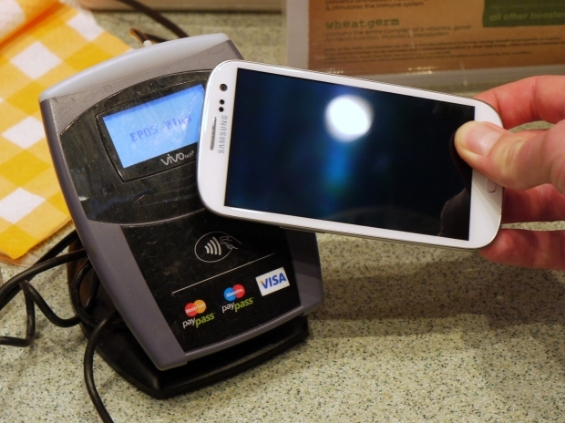 Barely a couple of days after Everything Everywhere announced that they have teamed up with Mastercard comes another announcement, this time from Orange, one of the partners in the EE stable.
Some time ago, Orange launched Quick Tapp with the Samsung Tocco Light.  This enabled NFC payments to be made at over 50,000 locations using your handset which was linked to a Barclays account or credit card.  Unsurprisingly the take-up of the Tocco Light didn't set the world alight.
In an effort to revitalise the service, Orange have selected a somewhat more popular handset with which to pair the service in the form of the Samsung Galaxy SIII.  Once tied in with your Visa, Mastercard debit or credit card you'll be able to pay any amount up to £20 without entering your PIN.  New users on Orange SIM with a Galaxy S III will get a £50 bonus when the feature is activated.
The full press release is below.
Orange and Barclaycard announce first Quick Tap Android Smartphone with the Samsung Galaxy SIII

· Orange Samsung Galaxy SIII to be the first Android device to feature Quick Tap contactless payment technology

· New and upgrading customers taking the Orange Samsung Galaxy SIII from 5th September will be able to load money securely onto their handset using any UK MasterCard, Visa, Debit or Credit Card

· New and upgrading Orange Samsung Galaxy SIII customers who activate the service between 5th September and 5th October receive £50 to spend free

Orange and Barclaycard today announced plans to launch the first Android smartphone compatible with the Quick Tap contactless payments service. From the 5th of September, new or upgrading Orange Samsung Galaxy SIII customers with a UK MasterCard or Visa card can now use Quick Tap, enabling them to make mobile contactless payments nationwide.
From 5th September, Orange customers who take out the Samsung Galaxy SIII from Orange Shops, Orange telesales and via the Orange web site will be able to use their handset to make convenient and secure contactless payments of up to £20 by simply tapping their phone on the payment terminal at tills across the country. Getting up and running simply involves downloading an app and activating the secure Barclaycard service. Customers who activate the service between 5th September and 5th October 2012 will also receive £50 free to spend using their phone.

Simeon Bird, Director of Propositions, Orange UK, said: "We are really excited to be launching Quick Tap payments on one of the most popular smartphones of the year. Contactless mobile payments are a secure and convenient alternative to cash and cards and we are pleased to be the first network brand in the UK to offer its customers such an innovative service."

Tom Gregory, Head of Digital Payments, Barclaycard, added: "Barclaycard is committed to making paying for things faster, safer and easier. With the launch of Quick Tap payments on the Samsung Galaxy SIII, Barclaycard is bringing a safe and secure new way to pay to customers of all UK banks. Mobile payments are safe and have a full fraud guarantee and we've seen ever growing numbers of people using contactless to make quick and secure payments of up to £20."

The Samsung Galaxy SIII with Quick Tap will be available from Orange shops, www.orange.co.uk and via Orange telesales from 5th September 2012 on Pay Monthly plans. For £36 a month customers will receive unlimited minutes, texts and 1GB of data.