Choosing a phone case is almost as hard a choice to make as the initial choice over the phone. You can buy cheap soft rubbery silicone ones, harder flexible TPU ones, two part cases that make your phone look like a piece of military equipment and then you can get some cases where you are basically just applying thick Selotape over your whole phone. My way of deciding which to use is just to buy one of each and change them round when I want.
Spigen make a range of phone cases for a variety of different phones. The kind people at Spigen sent us a few different cases, Jamie reviewed the Linear EX case for the iPhone 4/4S earlier on in the week. Today we have two different types the SPG Neo Hybrid case and the SPG Ultra Capsule case.
First we will look at the Neo Hybrid case. It is a two part case, you get a soft silicone inner layer to absorb any shocks and a hard plastic outer layer to deal with any knocks. In the past the only two part cases I had come across were the Otterbox style cases which basically doubled the size of the phone. So when I saw one of the cases was a two parter my heart dropped. Once I took it out the packaging I was amazed, they have made a two part case no thicker than a normal case.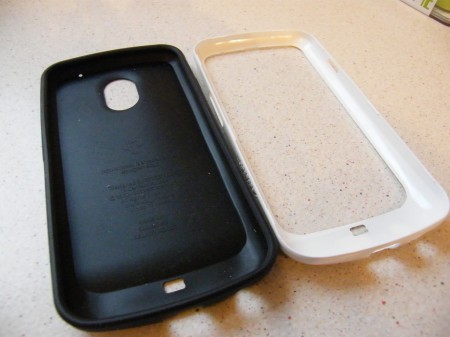 The two pieces are just basically a lot thinner than you would expect. But once combined you get a nice solid and well protected device. To help reduce weight and overall thickness the back of the case has been cut out, which gives it a two tone colour. Mine was in black and white which worked well with my white Nexus. They also do a variety of red, yellow, black, grey or silver cases.
Normally soft silicone cases get stuck in your pocket or gather dirt, the soft inner layer on this case is a bit tougher than normal. So you won't struggle getting it out of a pocket and it seemed to gather slightly less dirt than the softer type.
Overall it is a great case if you want a bit more protection than normal. Combined with a screen protector and you would be sorted. The way they have kept the overall thickness down is great, it feels slightly thinner than with the Ultra Capsule case on.
The Neo Hybrid cases are available here for $13.99 and worldwide shipping is available.