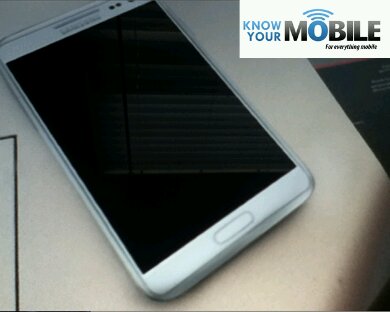 Samsung are definitely in the spotlight at the moment. The SIII is selling well and their original Samsung Galaxy Note has shifted 10 million units. That's despite the current model having a ma-hoo-sive 5.3″ screen.
Oh yes, and there's "that" court case which, if nothing else, is certainly getting people talking about the company. A lot.
Now this rumoured pic of the new Galaxy Note II, due to arrive on August 29th, has surfaced. It seems to carry some design points from the Galaxy SIII and apparently has a 5.5″ screen.
Too big for your head? Well, maybe. We've become accustomed to seeing people taking pictures with their iPad – some even take them to restaurants. So why not have a phone / mini-tablet that can magically turn your pictures into works of art? The big-ass screen definitely makes us smile every time we use the current Note, so why not?
Link – KnowYourMobile