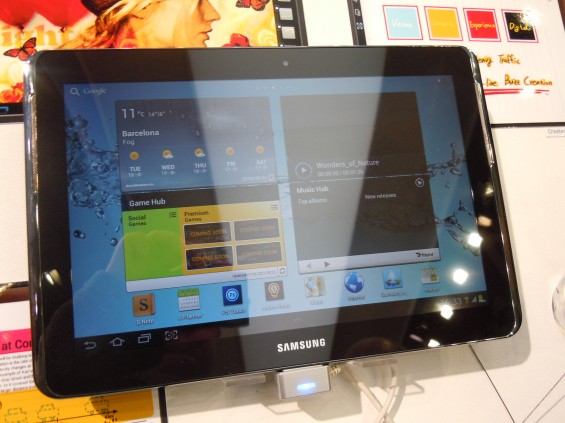 I've seen a number of sites stating that Samsung have just "announced" the Galaxy Note 10.1. Actually, they announced the thing back in February and we've already had the full hands-on treatment, so we don't really need to show you the press shots.
There's already a video demo online but for those who missed it, here's a look at how the Note and the S-Pen work together..
It'll be available across the globe in WiFi and 3G varieties and later this year you'll get an LTE version too. Inside is a 1.4GHz quad-core Exynos CPU with 2GB of RAM. Other specs include a 5 megapixel rear cam, front 1.9 megapixel shooter, 3.5mm audio port, aGPS, Bluetooth 4.0, microSD slot (up to 64GB) and a 7000mAh battery. The whole thing runs on Android 4.0 and that 10.1″ screen has a 1280×800 pixel resolution.
Links – Earlier story – More pictures
SAMSUNG GALAXY NOTE 10.1 AVAILABLE GLOBALLY IN AUGUST

Samsung inspires a culture of active content creation, productivity and learning

London UK, August 6 2012 –Samsung today announced the launch of the Galaxy Note 10.1, an extension of the Galaxy Note category. The Galaxy Note 10.1 offers the functionality and precision of a pen and paper on a 10.1-inch large display, which will enable people to amplify their creativity, productivity, and learning ability. Providing an intuitive experience and armed with a 1.4 GHz quad-core processor and 2GB RAM for enhanced performance, the Galaxy Note 10.1 is designed to simplify the process of capturing ideas, accessing information and multi-tasking, making each easier and faster and allowing people to express their ideas in an efficient way.

Simon Stanford, Vice President, UK & IRE Telecommunications & Networks Division, Samsung UK and Ireland said: "Following the success of the very first Galaxy Note which we launched at the end of last year, we're delighted that our UK customers will now be able to experience the evolution of this device for themselves. The Galaxy Note 10.1 is a product we are very excited about and will offer our customers a new way to use and experience a tablet device. As well as being able to consume content such as videos, photos, document and the Internet, the Galaxy Note 10.1 also gives them the power to produce, create and customise that same content –something they won't get from any other product on the market."

The Galaxy Note 10.1 incorporates key intuitive features and capabilities such as side-by-side multitasking. This is thanks to its 'Multiscreen' on a 10.1-inch large screen; unique S Pen with a variety of S Note templates and productive tools (Shape Match and Formula Match); Learning Hub* for accessing educational curricula and Adobe's premium creative application Photoshop® Touch. True Multi-Tasking with Multiscreen feature With the Galaxy Note 10.1's Multiscreen feature, it's possible to use two different applications side-by-side simultaneously. So Web pages and videos can be viewed, or applications launched using one half of the screen, at the same time as the other half is used for writing or sketching ideas with the S Pen. What's more, customers can capture and crop images, and paste them onto the other screen to make personal notes. The Multiscreen feature allows people to be more productive and efficient whilst also enjoying multimedia content.

Galaxy Note 10.1 brings a new culture of creation through the owner's own notes, and enables an entirely new experience to improve productivity and enjoyment. S Pen & S Note for Personalised and Organised Note-taking Featuring its advanced 6.5mm S Pen, the Galaxy Note 10.1 is optimised for the creation of personalised and expressive content in the most natural and intuitive way. The S Pen's feel and functionality are specifically designed for an optimal experience on the 10.1-inch screen. The S Pen is embedded directly in the device and, when removed, automatically launches specially optimised applications, including S Note, S Planner, Crayon physics, Adobe® Photoshop® Touch, and Polaris Office. Alternatively, people can easily set their preferred application to be launched instantly. For example, S Note can be launched instantly when the S Pen is taken out from the device. Owners can also tap the screen twice while pressing the S Pen button for quick S Note access via the S Note-dedicated widget, which can be easily moved anywhere on the display, never hindering or obstructing creativity or productivity. The S Note is a unique tool that enables notes and sketches to be combined with other digital content in ready-to-use templates. The Shape Match and Formula Match features help correct and digitise geometric shapes and solve numeric formulas hand-written with the S Pen. The S Note is also integrated with knowledge search engines so that content can be searched for and information obtained, and then easily drag and dropped onto S Notes without having to switch between screens. Exclusively pre-loaded on Galaxy Note 10.1, the Adobe® Photoshop® Touch application means owners can professionally edit photos with the ease and precision of the S Pen. Active Learning Experience

The Galaxy Note 10.1 is an ideal learning tool that allows students to take notes directly on an eTextbook whilst in lectures, or research the Web at the same time as writing an essay. Samsung's Learning Hub service is optimised for Galaxy Note 10.1 allowing owners to access extensive multimedia educational content whatever their age. This content includes eTextbooks, video lectures, interactive coaching and much more, and can be shared with multiple Samsung devices. Furthermore, Learning Hub comes with a learning management system providing schedule management and performance and achievement management tools so students of any age can learn at their own pace. Superior Hardware Performance

Galaxy Note 10.1 is designed with advanced hardware technology, including a 1.4GHz quad-core processor and 2GB of internal RAM. Seamless multi-tasking, high-standard graphics, and blazing-fast performance without any lag are essential features of the device. The Galaxy Note 10.1 also includes a 5- megapixel main camera and a 1.9 megapixel front-facing camera. Several other features have been added to the Galaxy Note 10.1, including Smart Stay, which tracks the owner's eye to ensure that the screen is always on while being looked at; and Pop Up Play, which allows a video to be watched anywhere on the screen while simultaneously running other tasks. With AllShare® Play, content can be shared with a large group in real-time by connecting the Galaxy Note 10.1 to Samsung HD TVs, mobile tablets, laptops, and other consumer electronic devices on the same network. With AllShare Group Cast, people can also share and collaborate on documents, presentations, or images without loading the files separately. The Galaxy Note 10.1 comes in three connectivity options: WiFi-only and WiFi-and-3G HSPA-Plus connectivity, which are both available at launch, and WiFi-and-LTE which will be available later this year