For this part of our Nexus 7 group review we will look at a few things you can do to make your time with your new tablet more productive.
Tips from Tom Ransom
So I've had my Nexus 7 for a week or two and as it stands I don't have a bad word to say about it. As a 7″ tablet at £159 for my 8GB one its a bargain, the performance to match even the best tablets at a fraction of the price. I played with it for a couple of hours before getting down to business and rooting it. For this task I can't recommend the Nexus Root Toolkit highly enough. It takes all the stress out of the process and offers single click processes for everything. It has almost saved me a couple of times, I managed to stop my Nexus 7 from booting (it only made it to the bootloader before becoming unresponsive) and using the software I could restore the factory images and get back use of my tablet! Word of warning though, restoring factory images like that gets rid of everything, including what is on the internal storage. So if you want to really mess with system files make sure you back everything up and move it off the device.
Tips for general use? Once rooted you can do a hell of a lot to this thing, the first thing I want to mention is the ability to drop it into the Tablet UI. A quick change of the lcd density portion in the build.prop file in the system folders will force Jelly Bean to render in the Tablet UI, I know a lot of people wanted that feature. Navigating to the display settings let you then bump the font size up to compensate. Job done. The way the device handles the backlight is a little harsh too, it will often make large jumps between percentages and give the appearance of screen flicker. I downloaded Lux to counter this, it sits in the background and takes over the management of the backlight from the system. It does a much better job too.
Since I have the 8GB model I have to be careful of the amount of storage I use up. I made the choice to get the 8GB one because of the way I already use cloud based products, I wanted to save myself some money. All of my photos and documents get uploaded to Dropbox as soon as I create them, this means I don't really have to save any of that on this device. All of music gets streamed from Spotify, any tracks I really like get saved to an offline playlist so I don't have to rely on a data connection. Spotify manages those files for me as I move songs in and out of those playlists. Movies and TV shows get streamed through the Play store or through Netflix so I never have this files saved. Finally reading is done through the Kindle store, although to be fair I already have a Kindle Keyboard so if I am anticipating any sort of reading I'll have that instead.
Finally, I wrote this all out in the Evernote app on my Nexus 7. I really enjoy the typing experience despite the lack of feedback due to the device missing a vibration motor.  The only gripe is the landscape experience. Its too wide to type while holding the device but too narrow to sit it down to touch type, that really is not picking though. I love this thing.
App Links – Lux – Netflix – Spotify – Amazon Kindle – Evernote
Recommended apps by James Pearce
Modaco camera app
The Nexus 7 has a camera, but only video calling apps can access it. Paul O'Brien from Modaco has packaged up a camera app that will let you use the camera as you would expect. Albeit self portraits or things behind you!
Play Store Link – Camera Launcher
Apex Launcher
Do you fancy having a landscape homescreen and you don't want to root your nice new Nexus? Well a quick and easy method is to install a launcher like Apex Launcher. It works well on Jelly Bean and allows you to change things like the grid size for your apps and also how many dock icons. It also supports themes so you can easily change icons around. The only slight problem is adding widgets from the app drawer requires root using an alternative launcher. You might need Homesmack as well to change between installed launchers.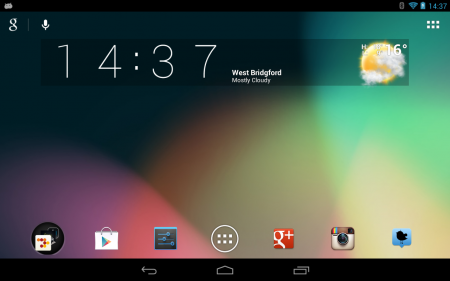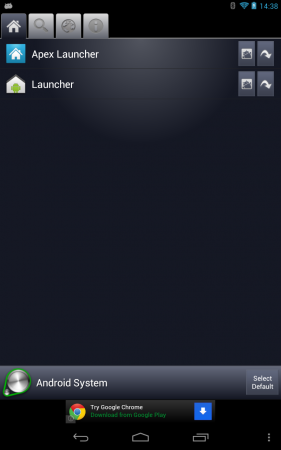 Play Store Links – Apex Launcher – Homesmack
Rotation Lock
When I first booted up my Nexus 7 I realised that I couldn't get any app to rotate into the landscape orientation. It made things a little odd. I guessed I had missed a setting somewhere, I didn't want to read the instruction book. Then I spotted an odd icon in the notification bar. I pressed et voila the Nexus allowed apps to rotate.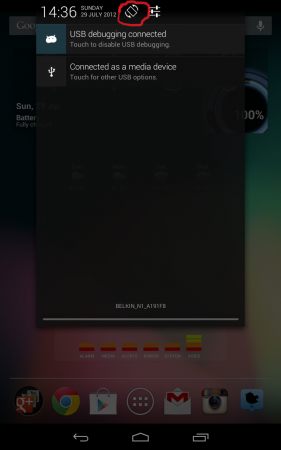 The instructions
More and more devices these days don't come with instructions and lo and behold the Nexus 7 doesn't really come with instructions. Enter Play Books Store, in there for free is the official Nexus 7 book. It is viewable in the Play Books app and you can download it for offline reading. Pretty useful really.
Book Store Link – Nexus Instructions
zinio
Upon realising that the UK version of the Nexus 7 didn't come with the Play Store Magazines, people were feeling sold short. As usual us in UK drew the short straw. I just shrugged my shoulders, because I have Zinio. What is Zinio? It is a well stocked and reasonably priced magazine shop, that's what it is.
I have been using Zinio for a while now and recently the offering has improved vastly. One thing I have noticed is that you can often buy magazines for about half the high street price. Useful for casual flicking through the pictures during your lunch break.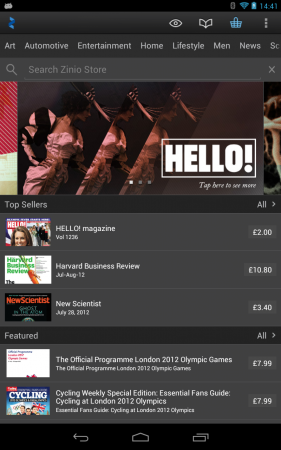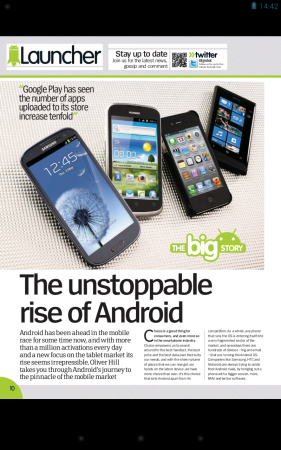 Play Store Link – Zinio
7 Digital Music Store
Another thing that people get upset about is the disastrous service that is Google Music. People in the UK want to buy music on their device. 7 Digital lets you do just that. We reviewed it the other week here.
Play Store Link – 7 Digital
Some nice tablet apps I have installed
Tweakdeck – A decent Twitter app, which is a variant of Tweetdeck, Paul O'Brien has fixed a good chunk of the offical apps bugs. Just change the text size in the settings.
Plume – A multi column, live stream Twitter client, it can get a little cramped in portrait view though.
Flipboard – A sort of news reader cross with a social client, looks great on the large screen of the Nexus.
Pulse – A news reader, displays your feed plus many other categories in a nice visual way.
Android Pro Widgets – A great selection of widgets for your homescreen, calendar, bookmarks, messaging, facebook, twitter. Lots of skins available to change the look as well.
WordPress – Great blogging tool, the tablet version makes it slightly easier to edit articles.
Beyondpod – A nice tablet ui podcast app. Great for listening to our podcast each week.
Some great games I suggest you install sharpish
Demolition inc THD – UFO's, demolition, cars, explosions enough said.
Renaissance THD – Guns, crossbows, big hammers, zombies, mummies, fighting and great graphics. A really nice looking hack and slash and shot type game. From the first person perspective.
Dark Meadow – The Pact – Another great looking first person shoot and slash game. This one is free to play as well, so you can really test out the Tegra 3 graphics.
Dead Trigger – First person zombie shooting. Now free as well, thanks to all of those pesky pirates.
Guerilla Bob THD – Over head view shooting game. Bosses are quite tough but it is very playable in between them.
Batman – The Dark Knight Rises – Gameloft have released another visually great game. Once again lots of fighting.