A few days ago we bought you news that the guys over at Mobile Fun have started to stock Google Nexus 7 Cases and Covers.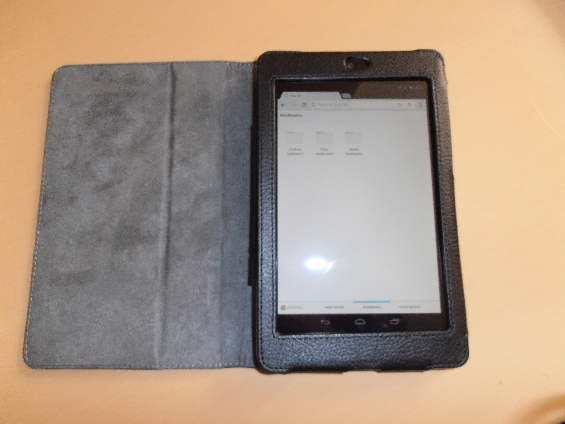 One of the lines that is currently available is the SD Tabletwear Stand & Type Case and we here at Coolsmartphone have managed to get our hands on one for review.
Priced at £15.95, the Stand & Type Case is available in five colours, black, white, blue, red and purple.  We had the black one which is made from a leather effect material on the outside and has a suede like effect on the inside.  The quality of construction is high with the Nexus 7 nestling snugly inside, there is a tab that is secured with velcro to ensure no movement and to ensure that the device stays in place.
There are cutouts for the front facing camera, charging port, volume rocker and power button as well as for the microphone and rear speaker.
On the rear of the case is a multifunctional clip which allows the lid of the case to fold and creates a stand thus offering a great angle for viewing films or when laid flat forms an ideal typing platform using the on-screen keyboard.  When being used for this purpose the case feels both sturdy and comfortable.
There is one feature that sets the case apart and that is the compatibility with the Nexus 7's sleep feature.  Put simply, close the case and your device will lock and enter sleep mode, open the case again and you are presented with your device awake and ready to go again from the lock screen.
All in all, a solid case at a reasonable price which together with the added bonus of the utilisation of the Nexus 7's sleep feature means that  the SD Tabletwear Stand & Type should be considered highly if you are on the lookout for protection for your valued tablet.
Thanks once again to Mobile Fun for supplying us with the review unit.