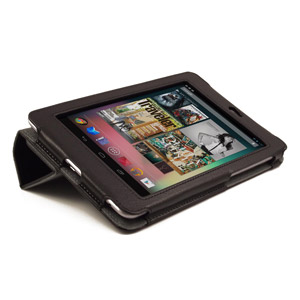 A video released today demonstrates a previously hidden and rather useful feature on the Nexus 7 tablet.
iPad and Blackberry owners will be aware of the sleep function that activates when your device is placed within a compatible case and this feature has also been included on the acclaimed new Android Jellybean touting Nexus 7.
The video below shows 2 cases, both of  which are sleep function compatible, whilst the SD Tabletware Stand and Type also converts perhaps unsurprisingly into a stand for typing and viewing of media.
The cases which come in black, red, purple and white are available now from Mobile Fun who have also made what appears to be the first video demonstrating the sleep mode in action.
[yframe url='http://www.youtube.com/watch?v=3tni-9LX7Ns&list=UUS9OE6KeXQ54nSMqhRx0_EQ&index=1&feature=plcp']
Are you a Nexus 7 owner?  Let us know what you think of your device here on our forums.