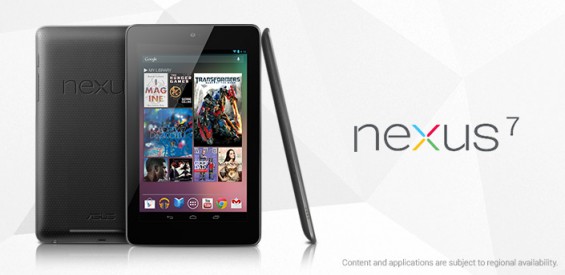 Lots of us pre-ordered the Google Nexus 7 Tablet the other week. Lots of us noticed odd things going on with the money in our bank accounts. Lots of us got a little cross at ebuyer selling the Nexus 7 last week. Lots of us have been logging into the Play Store on an hourly basis checking the status of our orders and most recently lots of us started to lose hope.
Well this morning when I turned my phone on I was meat with a glimmer of hope, in the form of an email from Google. It was the first time since my order confirmation that I had heard from them. Below is what it said.
Hello,

We wanted to send you an update on your Nexus 7 pre-order. We've had incredible demand for the new tablet and are shipping them as quickly as possible. All Nexus 7 8GB orders will ship by July 20, and Nexus 7 16GB orders will ship by next week. We've upgraded your shipping to overnight so your your order will arrive sooner.

If you'd like more detailed information on device shipments, please reference our online Help Centre here.

Thanks for your patience. Your Nexus 7 will be on its way soon.

The Google Play Team
Once again I logged in to check my order. Still nothing. then a short while later I got an email out of the blue saying that my Nexus had shipped, it also included a slight clue as to what was going on.
The clue was the TNT tracking number. Once the tracking number was up and running I checked where my parcel was. I got the shipped email from Google at 7am, the parcel got to the TNT depot at about 5am and was sent out for delivery at 7am. So if you are waiting it looks like you will not receive any info until TNT actually allocate it to a driver, at this point my card was charged as well.
I am guessing that Google have been massively caught out by the demand of the Nexus 7, leaving departments at a loss how to handle the back orders. So if you are waiting for your pre-order then bear in mind that this is the first time in the UK Google has attempted something on this scale. No doubt in the future things will be way more streamlined.
So with a little bit of luck me and about a dozen of our writers will have Nexus 7s soon. Which leads me to the next point. Our review, what would you like to see us test or try out? We have a load of devices to compare the Nexus with and also some of us will be hacking them apart and some leaving it stock. So if you want an in-depth rooting guide let us know.