Ever wanted to look awesome, professional and geeky all in one? CamCard is the app for you! Scan business cards that you're given and store them directly as new contacts, or share that information with colleagues.
In essence it's a platform that allows the scanning of Business Cards (or various other contact material) via your Smartphone. The application is available currently for Android and iOS.
The user interface is quite intuitive. Three main options are available when the application is loaded.
Take Photo – Does exactly what's expected, and takes a photo of a card to be scanned.
Select Photo – If you already have a picture of contact information you want to scan, select this.
Card Holder – This takes you to the area where cards are stored after scanning, so you can view, edit and share the information.
Let's get straight to the crux. This particular application is a niche piece of software. Most of us are used to adding names, numbers and addresses on an infrequent basis. However if you use your phone for business and are in any way involved in meeting Customers/Suppliers often, this application is pretty much a God-send.
Taking some sample business cards I was able to add contacts with relative ease.
Example:
So as you can see, it did a decent job of scanning and representing the contact information displayed on the Sample card I used. The only area I think it failed on was the postcode. This might well be because the usual convention is to have the Post Code at the end of the address, and not within the body of the address line. I have also used it on local cards with real information (hence why there are no pictures) and seen similar results.
Taking a look at some of the options that are available, I was happy to see, for a change, that this application has only basic options. I don't believe I'm alone in that I require an application to be downloaded, launched and function without the need for all manner of tweaks and dials to be fiddled with in order for the App to function. CamCard, I'm pleased to say, keep things light on the options side, giving only basics such as languages that can be recognised, and, amongst others, backup and restore capability. Additionally, if you sign up to CamCard's website, you can take advantage of some Cloud solutions for restoration of Cards too.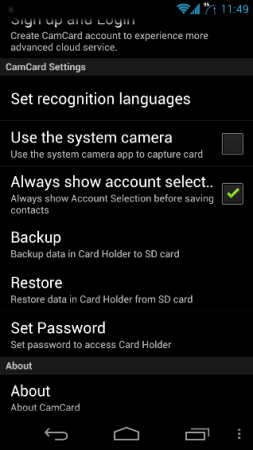 Another nice area within CamCard is the ability to view the saved cards. I've used other applications like this that have, once imported into the phone's contacts, deleted the card from the application. Having the cards intact makes sharing all the more easy. The interface to view the cards is also rather nice.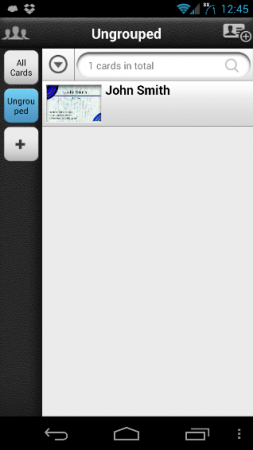 Pros:
Intuitive user interface
Resource light
Does exactly what it says on the tin
The looks on people's faces when you whip out your phone and save the details…priceless!
Cons:
Post Code does occasionally get mixed up depending on it's positioning
Glossy cards sometimes have issues
Summary:
All in all CamCard is a solid application and, as stated above, does exactly what is expected of it 9/10 times. It has it's little foibles and sometimes has problems with glossy business cards (the people that have them emphasise on marketing more than delivery…remember that!!!) but overall I've found it to be a stable and well maintained application. The developer seemingly has a roadmap in place and many other complimentary applications such as CamScanner – an application to allow you to use your Camera as an OCR for scanning documents and saving them to the cloud or sharing them.

CamCard, for being handy and having a fresh UI, gets a..:


CamCard is available from the Google Play Store in both a Free and Paid version.
Many thanks to Intsig.com for providing the application for review
Links: Intsig.com – Follow them on Twitter – CamCard On Play Store