The LG L7 forms part of the "L Style" range. When we saw the L3, L5 and this at Mobile World Congress. This is at the very top of that range but it's still not one of the most powerful devices we've seen from LG.
First impressions are good. It's running Android 4.0.3 (Ice Cream Sandwich) and we're won over by the design and style of the thing. From here you can find yourself getting a little disappointed, because it's powered by a single-core 1GHz CPU and has a 5 megapixel camera. Most other smartphones have an 8 megapixel shooter.
Other specs include..
– 4.3″ 480×800 pixel screen
– Corning Gorilla Glass
– 4GB Internal Storage (of which 2.4GB is available for users) and microSD card slot
– WiFi, GPS, Bluetooth 3.0
– NFC
– 5 Megapixel rear camera with flash, VGA front camera for video calls
Overview Video
Outside
Build quality and design both tick our boxes here. The screen is right next to the glass frontage and looks vivid and bright, although we quickly found out why this was. Our review unit had the screen brightness ramped up to full. This is pretty normal for review kit because manufacturers want us to see how nice their screens are, but when we wanted to flick it to "automatic" we found that the setting wasn't available. This, it seems, is due to a light-sensor not being present. It has everything else – a compass and proximity sensor, but no light sensor, hence no auto brightness. Sure, it might seem like a small point but if you're using the phone in low-light (a bedroom or dark sitting room) you're not going to want the brightness cranked up full because it'll make your eyes sting. Go outside and pow – you can't see a thing unless you have the foresight to crank up the brightness on the screen in advance.
Up top, the front-facing camera, LG logo and proximity sensor sit on a smooth pearly white screen border.

Down the bottom there's a clear "Home" / Action button with two soft-touch keys either side – a back button on the left and a menu button on the right. Press and hold that "Home" button and you'll hop into your task manager.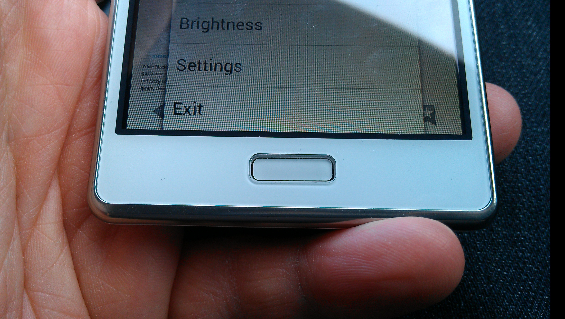 The left spine has the volume controls…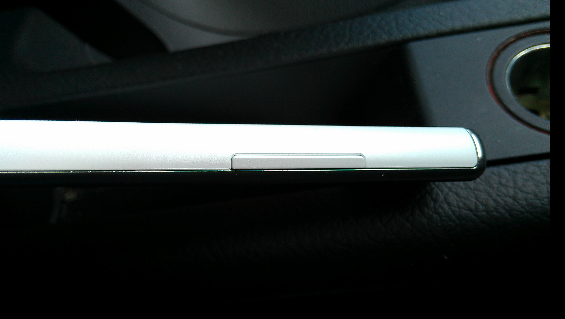 At the very top, on a silver strip, we have the 3.5mm audio port and the power button, which is located in the easy top-right corner.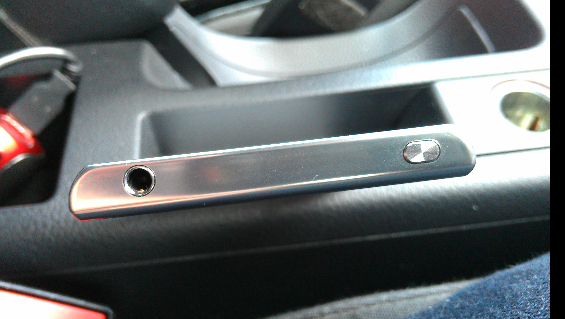 Down the bottom there's the microUSB port and the microphone.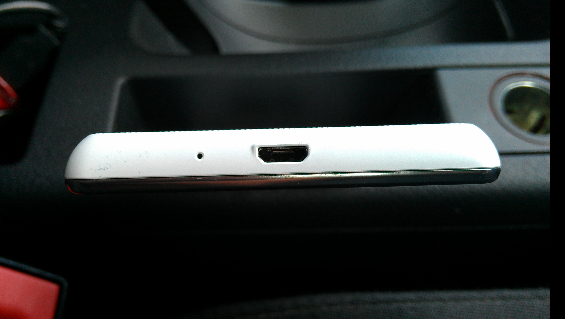 Then at the back, the 5 megapixel camera, external speaker and flash. The rear section has small ridges on it, it's kinda hard to describe but it's like one of those tiles you get at the swimming pool.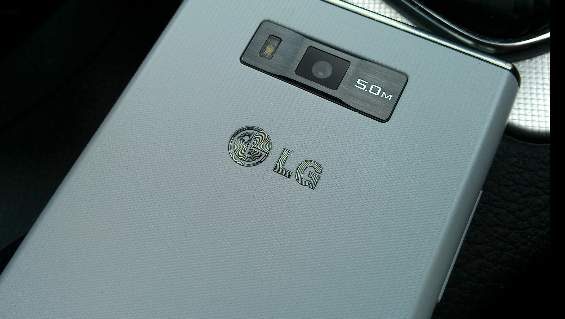 Here's a closer look at that back panel..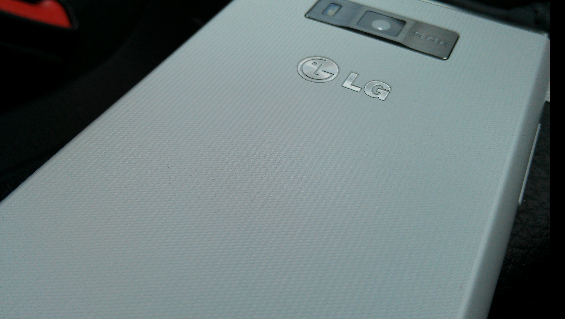 Inside
This handset is aimed at the "fashion concious" and there's a few LG tweaks to the standard Android interface. It's the usual drag-and-drop stuff for adding widgets, folders and shortcuts to your favourite apps and it's customizable too with your own backdrops – Live (moving) wallpapers, your own pictures or one of the ones that LG have supplied. Adding these is easy enough because LG each section is split, with App, Downloads, Widgets and Wallpapers on a different tab as you can see below.
There's five screens to fill with widgets, and you can quickly see all of them and choose your own default Home Screen by pinching your fingers together on the main screen.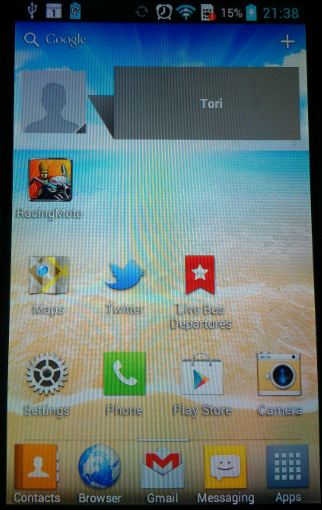 Calling is fairly easy, although in our review unit we had to move the "Call" button to the bar at the bottom of the screen so that it was more readily available. Everything here is a clear white colour and you can see how the fresh scheme follows through this phone. As with all Android phones your contacts are sync'd with the Google cloud or social accounts onto the phone – people get pictures, address details and more. You can group people into different categories, add them to your homescreen or add notes, nicknames or relationships.
Dialing numbers is also easy thanks to the predictive dial feature – just start typing in a name and it'll guess the contact you're trying to find.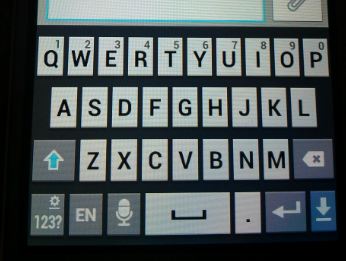 Messaging is good too, with texting split into conversations and bubble-style chats appearing for each person. We found it easy enough to attach pictures for MMS / picture messages, forwarding, deleting and replying. The on-screen keyboard is decent, but if you're looking for alternatives there's a mass of options in the Google Play store.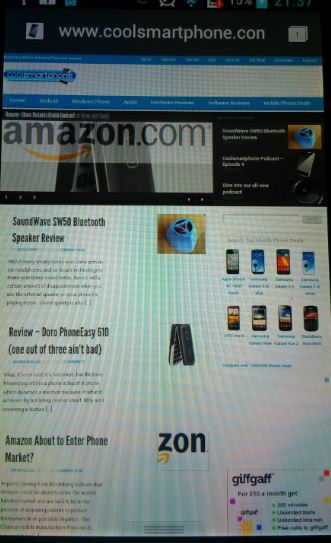 Browsing is where we found some slight issues, and there was an element of sluggishness when moving around pages, loading pages or zooming in. It's something we found on the Vodafone Smart II too, and I can't quite understand why pages too so long to load up.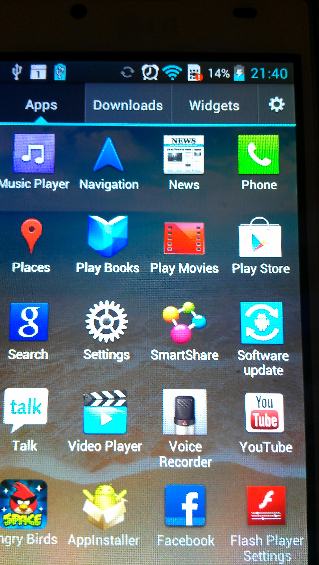 A range of apps are installed out of the box. You've got an alarm clock, calculator and a calendar which will sync with the "cloud". An FM radio, when coupled with your headphones, will let you listen to your local stations and of course you can download Internet Radio apps to listen to anything else. There's a music player too, and that splits your tuns into songs, albums, artists, playlists and for folders too. Play music and you'll get the album art plus the possibility to share music over DLNA through the LG "SmartShare" functionality. From within this app you can also set the tune you're listening to as a ringtone and share the tunes with friends through email, social media networks or any other app you've installed.
The entire range of Google apps are installed – Google Maps, Google Navigation, Play Books, Play Movies and much more. The L7 will happily guide you to your destination and you can also look at streets through the Street View system. It's all there.
The extra NFC functionality lets you change the way your phone works according to the nearby NFC "tag". We found it easy to set up and easy to manage. There's an NFC tag included in the box which you can program. When you're near it the phone will alter the settings to your wishes. There's already some settings in here – car, office and sleep – all ready for you to "tap" and activate.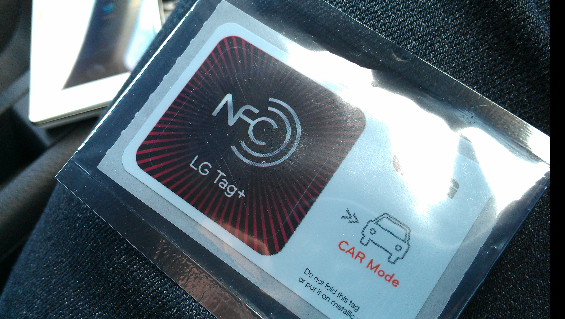 Camera
The camera actually shaped up pretty well. There was a range of options within the app, such as a Panorama shot, Normal shot, zoom etc. The 5 megapixel shots turned out quite well, although the 640×480 video recordings weren't anywhere near HD.
We've taken some example shots below for you to see. All of these were taken with the flash..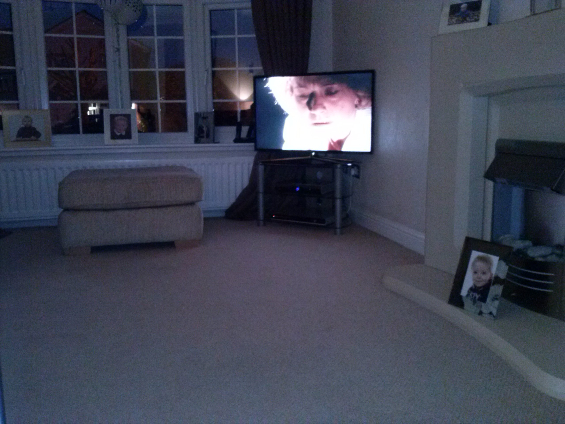 Conclusion
This should be a very good phone. I loved the style and the quality of the screen. The camera held up well too, even if it is "just a 5 megapixel", but the lack of an auto-brightness feature, low-res video recording and a slightly under-powered and slow browsing experience left us wanting somewhat. The addition of the NFC functionality and the DLNA "media beaming" capability was definitely something to be applauded.
Overall, a fairly decent phone which, if it's available cheap enough, might be suitable for some, but the CPU did struggle at times when looking at hefty websites. The battery lasted just more than a day, but the lack of a light sensor, or the ability to activate auto-brightness, meant that it lasted a lot less when cranked up.
[showphones handsetid='LG Optimus L7 black' number='5′]