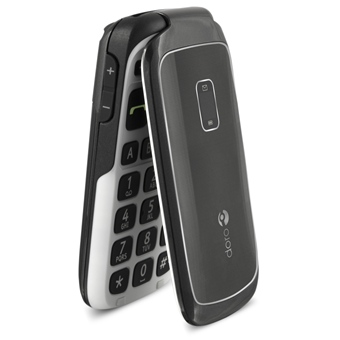 Okay, it's not cool, it's not smart, but the Doro PhoneEasy 610 is a phone at least! A phone which deserves a mention because of what it achieves by not being cool or smart.
Why am I reviewing a feature phone?
Despite his age, my elderly father has always been pretty tech savvy; an amateur radio and electronics enthusiast who was always striving to keep up to date and often knew more than me about the latest industry developments. Unfortunately he recently had two brain haemorrhages which put him in hospital for a month and, unsurprisingly, has affected his vision and cognitive abilities.
As he started his recovery he realised that he was finding it difficult to operate his mobile phone, and needed something with bigger buttons and a clearer display, and as such he asked my advice. My first reaction was to get one of the large screen Android phones and put it into accessibility mode, but I soon realised a touchscreen wouldn't be usable for him. I also realised that after ten years of Smartphone use, I knew nothing about feature phones!
I took a trundle around the manifold mobile phone shops in Bath, only to find that very few of them had anything suitable, until I reached the Carphone Warehouse, where I found the Doro PhoneEasy 610. Despite its grammatically challenged name, the specifications looked good and a short while later I was happy to part with £70 for it.
Both dad and I have now had a while to play with it, and I'm pleased to say it suits him perfectly.
The Review
The clam shell design is ideal for this type of phone, as it protects against accidental key presses, screen scratching, etc. and I have to say that when closed it looks like a genuinely stylish standard flip phone. It's only when opened that you see the large backlit buttons set on a white background for high contrast, and bright colour display, that you realise this phone is for the visually impaired.
In use, the buttons are positive, with the menu and action buttons feeling intuitive and easy to use without looking at. There are four additional buttons above the number pad which can be programmed to dial or text specific numbers. One extra button can be found on the back of the phone, which is specifically designed as an emergency call button that can be set to dial various numbers and send pre-programmed text messages.
The screen can be set to several colour themes, and the font size is adjustable to the point of being ridiculously big. If I were to fault it, I would have to say that setting up the more advanced features is a bit laborious, but being as they're 'set and forget' it's only annoying once!
I've listed the full features below, but the main highlights beyond what I've already said are the extra loud volume settings, hearing aid compatibility, and the multitude of emergency and panic settings.
Nice touches also include an FM radio, a desktop charger and a reported 490 hours of standby battery time (remember those days?!).
The only real failing for me is the lack of camera and MMS support, which is understandable, but disappointing.
In conclusion
Should you find yourself in the same situation as me or my father, then I wholeheartedly recommend the Doro PhoneEasy 610, but if you're after a cool smartphone, shop elsewhere!
Main features
Speakerphone
Backlit keypad
FM-radio
Dial up safety alarm
Key tone
Calculator
Calendar with reminder
Wake up alarm
ICE (In Case of Emergency)
SIM-toolkit
Remote programming (OTA)
Memories
Call log positions 60
One touch memories 3
Phonebook positions 300
Multiple numbers per contact
List top 10 contacts first
Handset unit display
Colour display
Big display text
Optional display modes optimised for visually impaired users
Adjustable font size
Sounds & Signals
Polyphonic ringtones 20
Visual ring indicator
Vibrating ringer
Ringer volume settings except off 7
Ringer off setting
Acoustics
Receiving maximum level (dB RLR) -35
Maximum receiving amplification (dB) 35
Hearing Aid Compatibility Rating M3/T4
Maximum ringer volume (dB(A) at 1 meter 85
Microphone mute
SMS
Broadcast message
SMS key
Predictive text
Adjustable multi-tap timing
Hide unwanted functions
Separated keys
Handset size (mm) 100*52*22
Handset weight including batteries (g) 103
Soft touch coating for better grip
Cables & Connections
Headset outlet (2.5mm)
Standby time (up to hours) 490
Talk time (up to hours) 8,7
Battery included (type) Li-ion 800mA
Universal Charging solution (UCS)
Technology
GSM (band) 850/900/1800/1900
Bluetooth
VCard support
Accessories
Charging cradle included
Headset included
Lanyard included
If the PhoneEasy 610 is just too basic for you, then Doro does provide a half way house solution that we reported on in March, which actually runs a heavily skinned version of Android, the PhoneEasy 740.