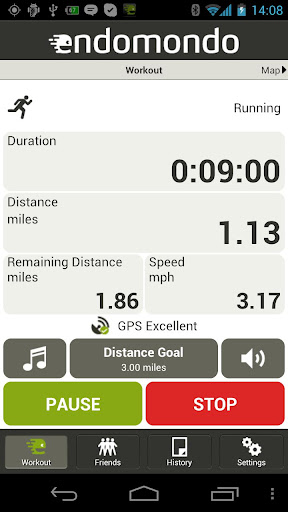 If you, like me, are a pure example of a pure athlete, you'll have probably tried Endomondo. It's an app which uses GPS to track your exercise and reports how many calories you've burned.
OK, I'll be honest, I sit on my backside for most of the day so I end up using it to see if those long lunch-time walks are burning off the big packet of crisps I ate. You can use it for running and cycling and it'll even give you "peptalks" and track your heart rate if you have the right accessories. The app also lets you compete withe friends, upload your routes, calculates the distance you've walked and you can view it all back online.
So, they've now got a staggering 10 million users. To celebrate they've now made their Pro Version just $1, which works out at just 81p. It's normally $3.99.
The Pro version adds..
* Interval programs: Choose from three programs or create your own and let the audio coach guide you
* Graphs: View graphs with your lap times, heart rate, speed and altitude throughout the workout
* Beat yourself: Set a previous workout as your goal and the audio coach will help you perform better this time
* Low power mode: Increase the battery standby time by using this feature for long workouts
* Time goal: Choose a duration for your workout and the audio coach will help you reach the time goal
* Calorie goal: Set a calorie goal for your workout and the audio coach will guide you
Links – Endomondo Free – Pro Version – Endomondo Blog