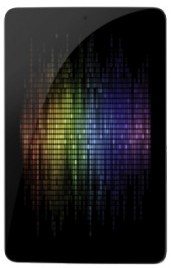 The new Nexus 7 tablet and Jellybean are the two hot topics racing around the Android world at the moment and, ahead of its imminent launch, a leaked document about both is causing the rumour mill to rev up to the red line.
According to said document the soon to be released Nexus 7 tablet will be running Android 4.1 Jellybean (the as yet unreleased successor to Android 4.0 Ice Cream Sandwich). This, however, isn't the only exciting news. A fairly comprehensive spec list suggests that the tablet will be manufactured by Asus, have a 7-inch 1280×800 IPS display with 178-degree viewing angle, 1.3GHz quad-core Tegra 3 processor, nVidia GeForce 12-core GPU, 1GB of RAM, 8GB or 16GB of internal storage (no SD card slot), 1.2MP front-facing camera, no rear camera, 9-hour battery life, Wi-Fi only, and NFC with Google Wallet.
These figures may seem a little disappointing when compared to the powerhouses that Asus are churning out at the moment, but then you come to the price: $199 for the 8GB model and $249 for 16GB. Yup, this isn't a stab at the iPad market, this is going head to head with the Kindle Fire in the States. UK prices weren't included, but word is that the 8GB will be around £199. This means it's up against the new Samsung Galaxy Tab 2 7.0, and a whole bundle of mid-priced tablets from smaller manufacturers.
Even when you take the price into account, I still feel that there are two omisions: the rear camera and the lack of an SD card slot. These are pretty much standard fitments to tablets in this price range, and removing the facility to expand the memory is frankly unforgivable in my opinion.
This is an unconfirmed leak, however, so I may be getting worked up about nothing, but I currently own a Galaxy Tab 2 7.0, which I've expanded from 8GB to 40GB via the microSD slot. I was going to buy the Nexus 7 tablet to replace it, but 8GB (or even 16GB) just isn't practical for me and makes it a deal breaker.
Is the spec of the Nexus 7 good enough for you? Is the lure of Jellybean enough for you to buy the Nexus 7, no matter what the spec? Am I banging on about nothing important?! Let us know by leaving a comment below or on our forums.