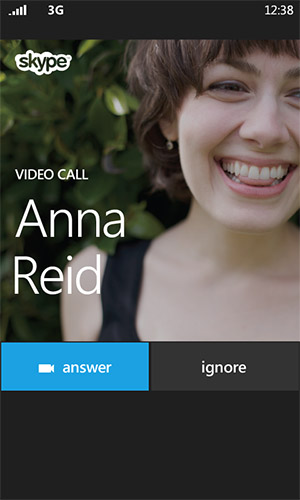 So, Joe Belfiore stepped onto the stage today to announce Windows Phone 8. It's a second "reboot" of the Microsoft mobile strategy following the news that Windows Mobile 6.5 users wouldn't be able to upgrade to Windows Phone 7. Now, the same is happening yet again, with existing Windows Phone 7 owners tossed in the trash for the sake of progress. Come this Autumn, that new Windows Phone is going to start looking outdated… still, at least you're not on a two-year contract. Oh, wait….
The new ecosystem, which seeks to tie in mobile with the desktop, has Windows Phone 8 and Windows 8 using the "same core technologies", sharing networking, security, media, web browser technology and a common file system. Oh, and microSD cards are on the way too.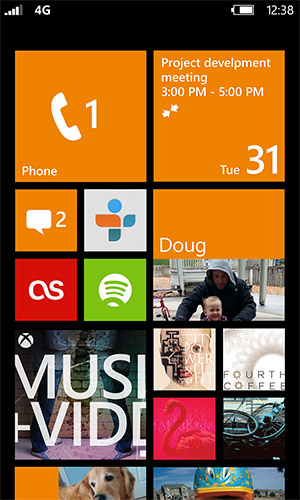 Want the full video and presentation? Grab a coffee.. 🙂
There's a distinct graphical similarity between WP8 and the Windows 8 OS used in PC's and their new Surface tablets. Get used to those coloured blocks.
But that's not all – the full list of features is below. Note how NFC is now included and multi-core support.. yes, more than 1 CPU. Microsoft have always told us that 1 CPU performed well enough, but it seems that there is actually a need for more after all.
– Multi-core processor support: As reviewers have noted, Windows Phone runs buttery smooth on phones with a single processor. But piggybacking on the Windows core provides support for multiple cores—so we're ready for whatever hardware makers dream up.
– Bigger, sharper screens: Windows Phone 8 supports two new screen resolutions—1280×768 and 1280×720, opening the door to amazing new handsets with high-definition 720p displays.
– More flexible storage: Windows Phone 8 supports removable MicroSD cards, so you can stuff your phone with extra photos, music, and whatever else is important to you, and then easily move it all onto your PC.
– NFC wireless sharing: If you haven't heard the term "NFC" yet, I'm betting you soon will. This emerging wireless technology lets phones share things over short distances. In Windows Phone 8, it helps make sharing photos, Office docs, and contact info easier—just tap your phone another NFC-equipped device. How cool is that?
– Internet Explorer 10: The next version of Windows Phone comes with the same web browsing engine that's headed for Window 8 PCs and tablets. IE10 is faster and more secure, with advanced anti-phishing features like SmartScreen Filter to block dangerous websites and malware.
– Wallet: Windows Phone 8's new digital Wallet feature does two great things. It can keep debit and credit cards, coupons, boarding passes, and other important info right at your fingertips. And when paired with a secure SIM from your carrier, you can also pay for things with a tap of your phone at compatible checkout counters.
– Better maps and directions: Windows Phone 8 builds in Nokia mapping as part of the platform. Our partnership will provide more detailed maps and turn-by-turn directions in many countries, plus the ability to store maps offline on your phone so you can work with maps without a data connection.
– Cooler apps and games: Basing Windows Phone 8 on the Windows core will unleash a new wave of amazing apps and especially games, for reasons I'll touch on in a moment.
Microsoft, and call my opinionated here, have "updated" their Start screen to a "new flexible and beautiful" version, although to me it just seems to be getting closer and closer to the UI used by iPhone and Android – a row of icons. A new Windows Phone 7.8 version will be pushed out to include this "new" interface and that, thankfully, WILL be compatible with current devices.
However, here's the killer comment from the Windows Phone Blog…
Windows Phone 8 is a generation shift in technology, which means that it will not run on existing hardware.
Just bought a Nokia Lumia 900? Looking forward to all those new features listed above? Keep looking, because you won't be getting them. Got yourself a Lumia 800? You too baby.
Microsoft have also announced that the Windows Phone Marketplace has clicked past 100,000 apps and games, plus there's news that Windows Phone 8 will include full C and C++ support with in-app payments, internet calling and you'll be able to run apps in the background properly.
http://www.youtube.com/watch?v=25DKXGKblOw
When Windows Phone 7 appeared we were all aware that there was a massive shift in focus. Windows Mobile 6.x had long been the OS used in offices across the globe. If you were a business, you used Windows Mobile. Windows Phone 7 targeted consumers instead, with business users pushed aside and into Blackberry, Android or iPhone devices. Now Microsoft have switched back again, with remote management, better security and device encryption available in the new Windows Phone 8 version.


Other improvements include over-the-air (OTA) updates and an 18-month support cycle for all devices from launch. Nokia, Huawei, HTC and Samsung and HTC have all signed up. Nokia will also be making their Nokia Maps available to other hardware partners in Windows Phone 8.
Those OTA updates shouldn't need approving by operators and there'll be no chance of a hold-up while networks decide whether to accept the updates or not. This is something we were told when Windows Phone 7 appeared but it soon got watered down and networks were approving updates, so we'll see if they stick to their word this time.
So, to sum up. Existing Windows Phone 7.5 owners will be getting Windows Phone 7.8, which appears to include just a new Start screen. LG, as we know, have dropped out and the comments on the announcement speak for themselve.
Thoughts?
Link – Windows Team Blog