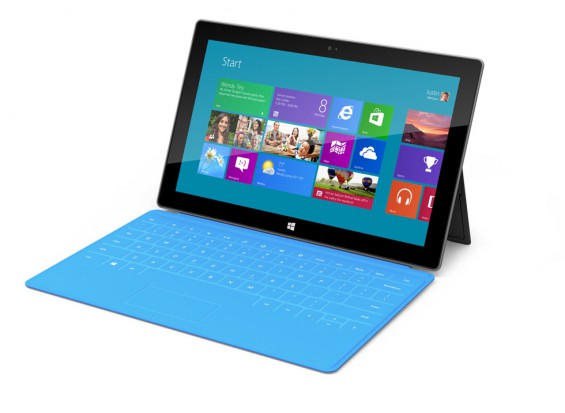 Just a few hours ago, as expected, Microsoft unveiled their own brand of tablets called "Surface". They will be powered by Windows 8 and have 10.6″ (26.9cm) displays with built-in kickstands. They're also built with magnesium cases, which Microsoft tell us are a first.
You'll be able to buy an ARM and Intel powered Surface. The ARM-based variant measures in at 9.3mm thick and runs the Windows RT version of the new OS. An Intel-based Surface will run Windows 8 Pro and is slightly fatter.
Magnets are used to attach a range of covers to the tablets – these then act as trackpads and keyboards fast data entry. Hmm.. almost like netbooks…
There wasn't much news on pricing or availability, although we do know that the ARM Surface (yes, I did just say that) will be available in 32GB or 64GB versions. Microsoft said they would cost around the same as "other tablets" with the same CPU. The Intel versions will be available with either 64GB or 128GB of storage and would be priced similar to "ultrabooks".
Rumours are circulating that Google are prepping an own-brand tablet too, so the competition against the infamous iPad is hotting up. However, with Microsoft offering up their own tablet and effectively discounting the cost of the Windows 8 licence, it could annoy other manufacturers looking to create a Windows 8 tablet.
Check out the full specs here.
Link – Microsoft Surface – Specs