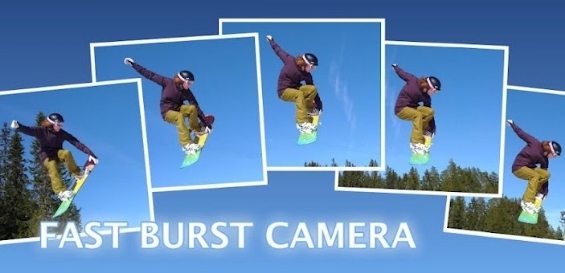 It seems it doesn't take long these days for a new feature built in to the latest and greatest smartphones to be ported or hacked on to other phones.
Yesterday, I looked at Smart Stay (Beta) for Android, today I tried Fast Burst Camera (Lite) for Android.
Description
Take up to 30 photos per second with this high-speed camera applicationThis is the fastest camera app available for Android. Not even the newest iPhones are able to shoot this fast.

Fast Burst Camera is capable of taking 30 photos per second.
( on low-end devices, 5-10 photos per second is possible )

Hold shoot button for continuous burst, or tap for fast single shots
Zero shutter lag – pictures are taken as soon as shutter button is pressed.
The app itself is pretty easy to use, fire it up, point it at something, and then hold the button!
I did find that if I kept my thumb down on the button until it stopped (97 photos), it did take a while for the app to empty it's cache whilst it saved the images to memory.
The one thing I would like is a zoom option, this is available in the full version priced at £3.45.
Here are a couple of examples of photos taken with Fast Burst…along with those 'missed it' photo's you are likely to get if your phone has shutter lag, like my S2. The images below are the actual size taken by the app, so a lot smaller than the normal 8mp resolution you would normally see on higher spec smart phones.
The app can be found in the android app store. Free version. Paid Version. I'd recommend trying the free version first to see what you phone is capable of.
If you have an decent action shots, why not share them over at our forum.
Thank you do my daughter for the use of her legs…though I think she enjoyed the splashing.