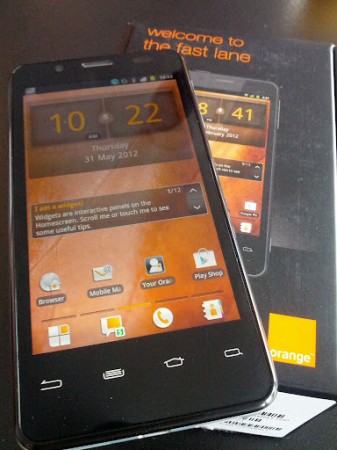 The Paramount Events centre on Tottenham Court Road was the venue. Orange held the press event for their Intel-powered San Diego, with great views of central London.
Paul Jevons [Orange Products and Devices UK] started off by giving its proper name – the San Diego. It had been known as the Santa Clara for the last six months and we first saw it as the "Orange London". He then went on to mention how important the browsing experience now is for the user and how that was the main focus for the San Diego.
When Graham Palmer [Intel UK and Ireland] talked about chipset and collaboration with Google, he wasn't really clear on how well it would integrate with all the aps on Google Play. He instead said it was compatible with "many, many" applications.. take from that what you will.
The San Diego is Orange's new Intel powered smartphone and will be available from 6th June nationwide on contract and PAYG [PAYG is £200 plus topup].
My first impressions were that it was really light and nice in the hand. It has a soft touch rubberised finish on it and a highly customised Orange skin on it over Android 2.3.7.
What stood out for me the most was the boot time . Just roughly counting it takes about twenty seconds to go from off to the lock screen, just as a comparison I tried on my Galaxy Nexus which took seventy seconds, and thats without a boot animation!
Screen transitions felt buttery smooth on the 4.03" screen with a really nice 600×1024 pixel resolution. In the box, the usual stuff – a charger, quick start guide and a headset.
For £200 this is a real contender for the mid range price bracket and the first to be powered by an Intel chip. I'm really excited to see what this brings to the Android ecosystem and how well its received by the community.