I've been on the lookout for a bag to cart about my gadgets when going places. I needed something that wasn't obviously a laptop bag (for fear of being mugged) but something that offered just as much protection. The STM Scout is the bag I chose to try and I took it on holiday with me for a week with as much stuff as i could fit.

So you can keep track, here is a list of stuff I took with me and I'll list where I put it all throughout the review.
a 13 inch Macbook, an iPad, an iPhone 4, an Incipio OffGRID, Apple ear buds, iPad charger, iPhone charger, Macbook Charger, 2x 30 Pin Cables, USB Extension cable and a Micro USB Cable. Keys, Pen/Stylus.
The Scout I have is olive green and is also available in black. The material is waterproof canvas and feels really hard wearing. The front is covered by a large flap with a plastic buckle that keeps everything covered and securely inside. Open the flap and you'll see 2 deep pouches on the front. One is a basic pouch with a keychain clip inside where I put my keys. This is  where I put my Macbook charger. The other pouch has pockets inside for pens and cards. I put the stylus in a pen pouch and filled the rest of the pouch with all my cables and earbuds. Above these  is a nylon lined zip pocket which runs behind the pouches where I placed the iOS device chargers and the Incipio OffGRID.
Next up is another pouch which runs almost the length of the front section. The back is lined with canvas and the front is nylon. In here I placed the iPad. The pouch was wide enough to have space at the sides but tight enough that the iPad didn't wobble around. The inside of this pocket shares a wall with the laptop pocket so there is a fair bit of padding there. I had the iPad screen facing in against the padding and it felt pretty secure.

Next up is the laptop pocket. This is almost hidden in the bag as there is a second canvas flap secured with velcro that covers it completely making it look like its just the back portion of the bag. Open the flap and you have a microfibre lined pocket with stiff foam in the walls. STM says this fits up to 14 inch laptops and my 13 inch MacBook went in no problem. There are 2 little corner flaps at either side that protect the top corners of the laptop. I folded the flap over and velcro'd it down and gave the bag a good shake. Everything felt really secure. I really like that this is a completely separate pocket and that its hidden because it alleviates my fear that every knows I'm carrying a laptop.


The back of the bag has a documents sleeve, again with velcro. I put my iPhone in here so I can still feel it vibrate and also run the headphones straight out. There is a carry handle just above this pocket.
The strap is very well made. It feels really strong and the buckles where it connects to the bag rotate through 360 degrees so it never gets tangled. The strap is easily adjustable, you flick a little lever up, adjust and then snap the lever down again. This feels secure enough not to come undone intentionally so if you are on a bike you can easily cinch the back up tight around your back and then drop it down again when you're walking.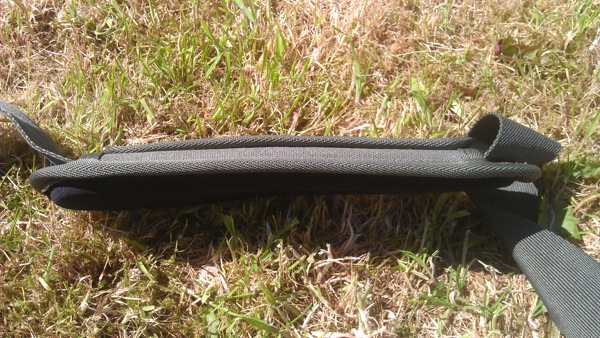 The shoulder pad is very generous. Its quite large and has a lot of padding. I felt it a little stiff at first but it soon moulded to the shape of my shoulder and I never had any problems with the bag digging in, even when fully loaded. It can be removed easily and attaches with velcro. Changing its position is also very easy.
Overall I really like this bag. Its hard wearing, looks great and easily managed to carry pretty much everything I would ever need to take with me. The quality of the bag is very high and I never had any worries about the safety of the devices it carried. I used it on holiday for 5 days and even when fully loaded I didn't have any issues at all. Everything was easily accessible by me but not by any opportunistic thieves.
The bag is available from Amazon for £44.99 and other retailers are included in the link below. If you have any questions please feel free to ask in the comments below.