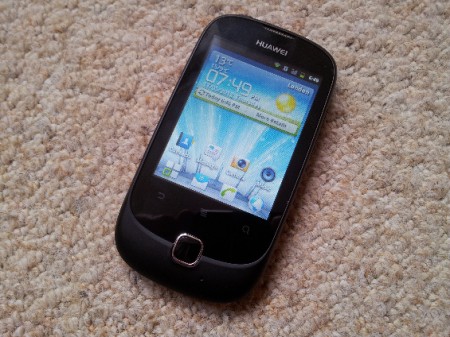 This morning a jiffy bag turned up and a small phone was inside. To a "power user" the diminutive Huawei Ascend Y 100 has a relatively small 2.8″ LCD screen and isn't anywhere near as large as phones like the Galaxy SIII or HTC One Series.
The "geek" inside me instantly wanted to scoff, but the 800MHz CPU coped admirably well after pulling down a 22MB Angry Birds game. I was able to destroy those pigs pretty well – no stutter or lag.
You'll be able to pop into your nearest O2 store on June 1st and grab one of these for just £79.99 on a Pay As You Go plan. On a contract you can get it for free for £10 per month, and there'll be the chance to customise the back of the phone too.
Sure, the 240×320 screen isn't as clear or as sharp as the 4 and 5 inch AMOLED units we usually get into our offices, but for £79.99 this ticked a lot of boxes. It felt tough yet slender and has a nice feel to it. There's no "cheap feel" here and I can easily see many kids, teenagers and bargain-hunters getting one of these and showing off their free custom rear cover. However, the Ascend G300 is also worth your consideration – we'll have a review of that online pretty soon and it's only a few quid more expensive in comparison.
It runs Android 2.3.6 and the actual product name is the "Huawei U8185". It looks to be an updated version of the U8110 which appeared as the T-Mobile Pulse Mini. The OS runs well on the single-core CPU and the slight whiff of Huawei GUI customization doesn't get in the way either. GPS, WiFi, Bluetooth and all the usual sensors are on-board, as is Google Play but sadly there's no flash on that camera and no face-pointing shooter either.
We'll have a full review online shortly, but until then here's a great gallery of up-close shots for you. We've also included a couple of example shots from the on-board 3.2 megapixel camera.
Link – O2