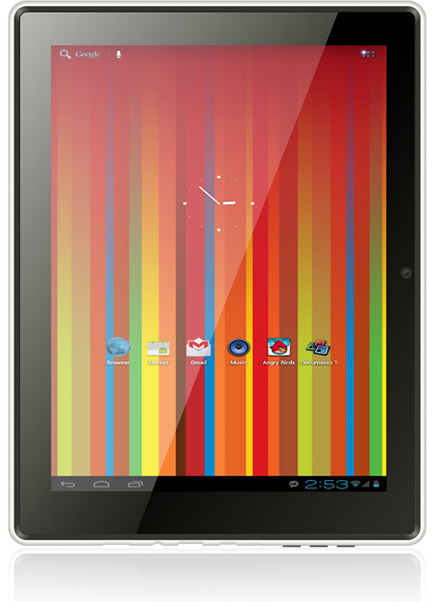 A new player in the UK Android market has officially announced a full range of budget tablets today.
Gemini Devices have been trading for a while in China, but are now bringing their JoyTAB Android tablets to the UK. Consisting of three tablets – 7", 8", and 10" – the whole range is aimed at providing the latest technology at value for money prices.
On Amazon the 800×480 resolution 7 incher is going for £129.99, the 800×600 8 incher is £149.99 and the top of the range 1024 x 768 10 incher is £199.99.
All run Cortex A8 processors and have 512MB of RAM and range from 4GB onboard storage to 16GB, although they are upgradable to 32GB via the SD card slot. Each have mini HDMI ports, which is a bonus in this price band.
Confusingly, the specs on the site show that they all run Android 4.0 Ice Cream Sandwich, however the images of the 7 and 8 inch models have Gingerbread homescreens. I phoned Gemini and was assured that the images need updating and all tablets will definitely be shipped with ICS.
We haven't seen one in the flesh yet, but going by the images on their web site they look like they're well built from quality materials.
The site also shows a range of accessories, but there's no details, so I assume they're coming soon.
With the JoyTAB range, Gemini are heading into a growing market of budget tablets, and will have to contend with well known names such as Archos and Andy Pad, but because these are well featured and have Ice Cream Sandwich out of the box, they have certainly got a good chance of taking their share of the spoils.
For more details see the Gemini Devices website
UPDATE
Gemini have now updated the graphics on their site so that they all show ICS homescreens.