It seems odd to write a review for a solar powered product, based on the biblical amounts of rain we've had recently, but I've had this unit for a week or two and we did manage to have a little bit of sunshine during that time!
The Eton Soulra XL is a solar charged iPod / iPhone dock. The first thing you notice taking this device out of the box is the striking design. I think it looks great, the wedge shape really suits the solar panel which rotates out from the main body and can therefore be positioned to get maximum exposure to the sun's rays.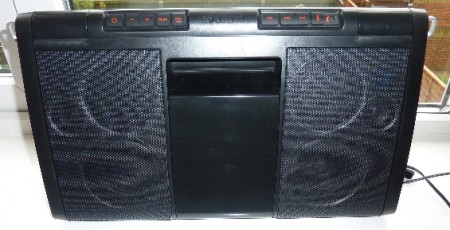 The unit itself is very well put together, feels solid and not at all cheap. It has a reasonable weight, but has an in built handle which makes the unit very easy to transport.
The remote control unit is very solid, works well, and tucks in underneath the closed solar panel when not in use. Brilliant if you intend on using this device out and about, as it means the remote control is less likely to get lost.
The sound quality on this unit is terrific. Really. It doesn't sound like an iPod dock, but rather a normal, dedicated stereo system. I'm not audiophile, but the output from these speakers was not only loud, but very clear, and with excellent bass.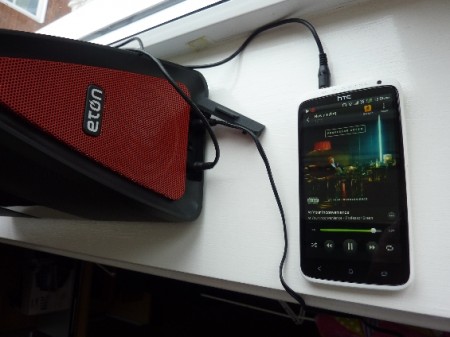 So, on to the main differentitor, the USP, if you will. The solar panels. Normally, I would see something like this as a bit of a gimmick. Not providing enough charge to be practical. However, for the most part, for three weeks, this speaker was sat in a shelf in an upstairs bedroom, with the solar panel facing the outside world through a window. It was used for probably 20 minutes a day on average, and I charged it ONCE from the mains (When I initially received it). Now ambient sunlight is not going to charge as fast as being directly in the sun, but this is still fairly impressive.
The literature for the speaker quotes times as follows for charging and playback..
5 hours to fully charge in direct sun
5 hours of playback (depends on audio volume)
Charges iPod/iPhone in 4 hours
which seems entirely plausable, although cranking up the volume will obviously lesson the playback duration.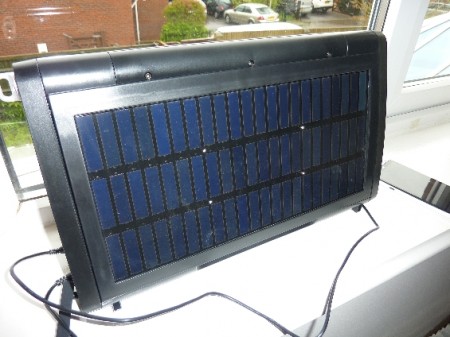 So, it's well built, sounds great, will save you money on your 'leccy bill, so what's the downside?
Well, it's quite expensive. £200 expensive. That is rather a lot. Secondly, although there is a line-in unit for playback of music from something other than an i-device, there is no FM or DAB radio, which seems a no brainer for an outdoors device destined for beach and BBQ use (if we ever get any decent weather that is!).
Is £200 too expensive? Well that depends. I think the quality of the build and the sound output in particular justifies the price point. It could genuinely replace a traditional stereo in a given room and is brillianty portable at the same time. Plus, depending where it's located, it may well save you some pennies off your electric bill.
If you're looking for something that impresses, and have the money, give this unit a look. I don't think you'll be dissapointed.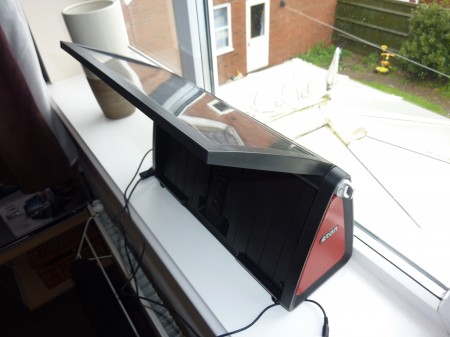 The Eton Soulra XL is available from Firebox..
Many thanks to them for the loan unit. Some more pictures of the speaker can be found below
Link – The Eton Soulra XL from Firebox