Today I took a flick through some of the shots we took at Mobile World Congress in Barcelona and found a few we'd not published.
When you look at the snaps below you could definitely be forgiven for thinking about those T-shirts on the local market. You know the sort.. they've got "Adidos" or "Kike" logos on. Something about them feels very familiar, but there's a definite difference in quality.
I noticed this rather large advert every day on the way to the press centre for Konka Mobile, who are based in Shenzhen, just a few miles away from the huge Foxconn plant where iPhones and other devices are made…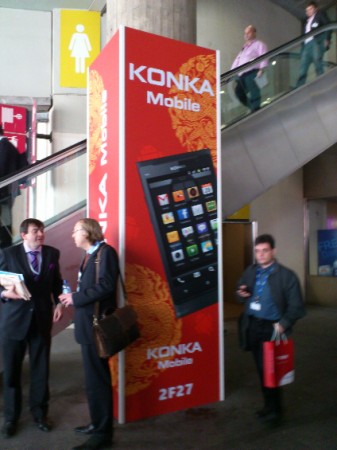 Now I'll be honest, we didn't get a great deal of shots from the stand but their handsets definitely have a "whiff" of Nokia about them.
Ah.. there, I said it.. Nokia. Yes, if you were to glance really quickly at the advert above, you could mistake it for a Nokia logo. Here's why…
We downloaded the Konka Mobile from their website. The red Konka logo below is their official logo. Below that, the official Nokia lettering. We then moved the letters around from the official Nokia lettering and…. bingo ! We've created a blue version of the Konka logo at the bottom! 🙂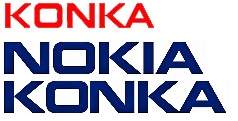 Their stand had several handsets and they seemed to be introducing more curved handsets with additional colours, although they're not running Windows Phone like the Nokia handsets. Now, I'm not saying (for .. err.. legal reasons) that they're directly copying Nokia, but you've got to admit that there's a definite similarity there…