There's only a week to go now and the daily Galaxy SIII leaks are becoming clearer and more interesting. Today SamMobile have a shot apparently lifted from a manual and it shows the S3 / SIII / Next Galaxy / i9300 in a bit more detail with specs detailing an 8 Megapixel camera and a new type of AMOLED screen.
Some info goes directly against what we already know, for example the CPU here is stated to be a 1.5Ghz, which is faster than the 1.4Ghz quad-core unit said to be present in "upcoming Galaxy smartphones", however this could still be true if it's overclocked a little.
We'll be live at the launch event next week, so don't forget to tune in.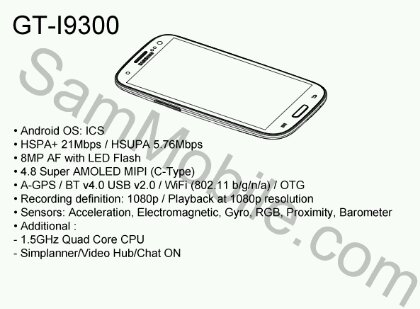 Link – SamMobile.com