You've waited, you've seen the teasers, now it's finally here – the Andy Pad is live. Two models are now available, the 8GB Andy Pad for £129 and the 16GB Andy Pad Pro for £179. If you order now, deliveries will start on September 12th. Both devices come pre-loaded with lots of apps (Dropbox, Facebook, Raging Thunder 2, Evernote) and the guys have actually tweaked the initial specs due to feedback from the commuinity.
We'll be honest here, this banner is an affiliate link, but if enough of you purchase this way we'll be able to give one away very soon. How's that eh ?
Click on for more specs and the full press release.
Link – Andypad.co.uk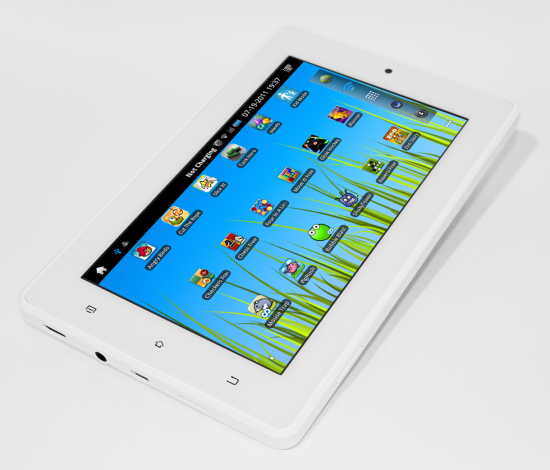 Highly Anticipated Andy Pad Android Tablet Officially Released
British tablet manufacturer Andy Pad has officially released their flagship tablet computer.

FOR IMMEDIATE RELEASE

PRLog (Press Release) – Norwich based English tablet manufacturer Verticool officially released their upcoming Android tablet computer today.
Designed as an all-in-one device, the Andy Pad is pre-installed with a variety of top-selling apps such as Facebook, Dropbox & Evernote as well as various games including Raging Thunder 2, Slice-it & Zoo Story.

The Andy Pad has been gaining noticeable attention since its initial announcement 108 days ago. The manufactures of the tablet have taken noticeable steps to appeal to the community, by upgrading the initial prospective specifications of the Andy Pad and announcing a second Andy Pad; the Andy Pad Pro featuring a higher quality screen, Bluetooth and some additional features. Andrew Kerry, the Managing Director of parent company: Verticool, aims to market both Andy Pads as affordable alternatives to some of the higher priced tablets on the market with prices around the £150 price mark.

The Andy Pads are initially being sold on the official website, Amazon and eBay with an aim to begin selling in popular electronic and gadget chains within the near future. The tablet is expected to be favourable with the younger generation because of its low price, impressive performance and pocketable size. Both Andy Pads are available for pre-order right now at www.andypad.co.uk