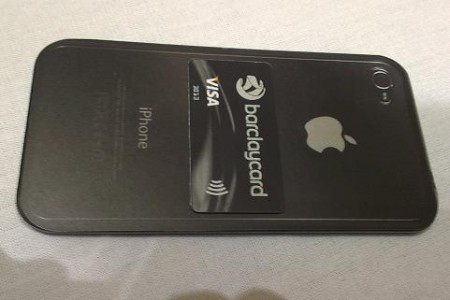 In the US there is Google Wallet but here in the UK, NFC and contactless payment has been very slow to take off.
Issues around trust and security have led to a sceptical public which in turn has led to retailers unwilling to commit and the banks treading very carefully.
However, as predicted here by our very own Alan Mersom, NFC could be about to take off in the UK as Barclaycard announce PayTag, a contactless payment system for any mobile phone.
Taking the form of a sticker that can be attached to anything (Barclaycard are obviously recommending your phone), you merely hold your sticker and whatever it is attached to near the contactless payment point and any transaction under £15 (rising to £20 in June) will automatically be processed.
There are currently over 100,000 contactless readers in the UK and this amount is due to expand rapidly with retailers such as Waitrose, Tesco and Boots all signing up.
There are of course some obvious flaws to this plan.  Most people tend to upgrade their phone at least once every two years and as the sticker is attached with a strong adhesive it cannot easily be removed and cannot be reattached.  Barclaycard advise that in this case a new sticker will have to be ordered and your old one is to be cut up.
What if you lose your phone or it is stolen? Well, Barclaycard reckons a quick phone call to them and all will be sorted however how you would do this when you don't have your phone is anyones guess!
Barclaycard have however said that PayTag comes with the same 100% fraud protection as its other cards, and has promised to refund anyone who loses their card which is then used fraudulently.
Available to Barclaycard holders, you can register your interest here.
Is this the first step in the NFC revolution or will you be waiting for some form of "proper" payment system to become available on your mobile? As ever, your comments are welcomed below.