Can you remember the JCB Pro Smart Toughphone we reviewed on Monday? Well it and a few other similar devices are now available at www.jcbtoughphone.com. Clove and Handtec have also announced that they have the Pro Smart in stock or will do soon.
Clove – Here
Handtec – Here (due in soon)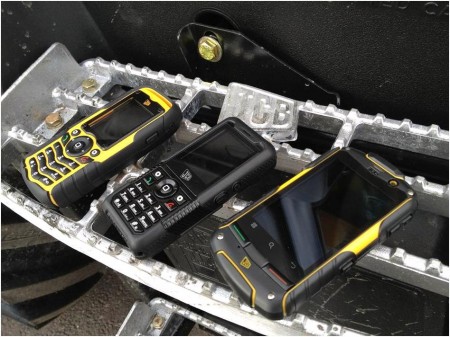 UNVEILED: THE NEXT GENERATION OF JCB TOUGHPHONES – NOW AVAILABLE
April 2012 – JCB and Data Select's next generation of JCB Toughphones ready for distribution.
Building on the incredible success of JCB Toughphone range, Peter Jones's Data Select and JCB have once again teamed up to develop three new tough mobiles, now ready for purchase and distribution from www.jcbtoughphone.com
The three new models, including the world's toughest smartphone, all step up the durability and functionality of the existing models and are set to be extremely popular with tradesmen, contractors and those in physically demanding professions – combining unrivalled durability and technological expertise.
Already popular with the core tradesman audience, customers who have pre-ordered their handsets can expect delivery by the end of the week.
JCB Pro-Smart – £334.99 Key features and specifications of the JCB Toughphone Pro Smart:
Waterproof Dust proof
Tested to IP67
Android 2.3 (Gingerbread) 5MP camera plus front facing camera Micro SD expandable to 32GB 800MHz processor
· Carry strap with Carabina and Compass · JCB Application preloaded
2 year warranty
Sitemaster 2 – £124.99 Key features and specifications of the JCB Toughphone Sitemaster 2:
Waterproof Dust proof
Tested to IP67
One ton pressure tested 2m drop tested 2MP Camera Bluetooth FM Radio Torch 2 year warranty
Sitemaster 3G – £154.99 Key features and specifications of the JCB Toughphone Sitemaster 3G:
Water resistant Dust resistant Certified IP54 One ton pressure tested 2m drop tested 5MP Camera Bluetooth 2.1 FM Radio Torch
· 2GB memory card · Carry strap with Carabina and Compass
2 year warranty
Jason Kemp, Marketing Director at Data Select, said: "These three handsets mark the future of tough technology and and are a welcome extension of an already impressive range of phones. Distributors and individual customers are now welcome to order any of the new handsets, which will be delivered by the end of this week."
All existing JCB toughphones, including the iconic Sitemaster and are also available for distribution and purchase via www.jcbtoughphone.com