Just in case you did not know, recently Sony Ericsson decided to part ways with Sony buying up the Ericsson part of the business. This means all future phones will be Sony branded and this Xperia S is the first of this new batch of android powered smartphones.
It was no secret that for a little while now Sony Ericsson found it hard to compete with their big phones, let downs on the Satio and Vivaz did not help things and then Samsung ran away with the Galaxy S2 which was the consumers phone of choice.
So now that Sony are back in the game on their own in a very crowded market there is a lot of pressure on them to start off strong. Can they do it?, Well read on for our review!.
Now onto the specs….
Android 2.3.7 Gingerbread
12 Megapixel Camera with 1080p Video
HSDPA 14.4mb/s
HSUPA 5.76mb/s
1.5Ghz Dual Core Processor
Bluetooth, WiFi & GPS
NFC
1GB RAM
32GB Storage
1750mAh Battery
[yframe url='http://www.youtube.com/watch?v=or7QAYpReZM']
The Sony Xperia S is powered by a dual-core 1.5Ghz processor which is a first for the company who are at last reaching out into the dual-core arena. Pair that with 1GB of RAM and you have plenty of power under the hood to get you through all the multitasking you could ever want, essential with all those applications you will want to download from the online store. Out of the box the Xperia S runs 2.3.7 Gingerbread but will be getting Ice Cream Sandwich 4.0 soon, there is even a sticker on the box advising that this update will be coming shortly.
Sony really have packed as much as possible into such a small space, one example is the 32GB of built in memory which is more than enough for your photos, music and video collection, remember though there is no expandable memory but with 32GB you should find his more than enough. Something else which is great is the NFC support especially with the supplied smart tags using this feature. One example is you can program your home address on the map, then when you tap the tag with the Xperia S the phone will load into Navigation mode and load the route you need. This is just one example out of countless possibilities.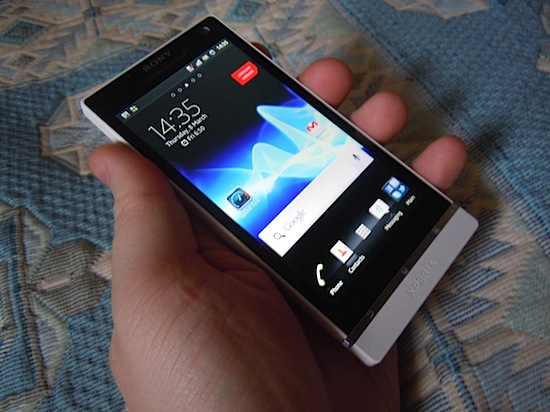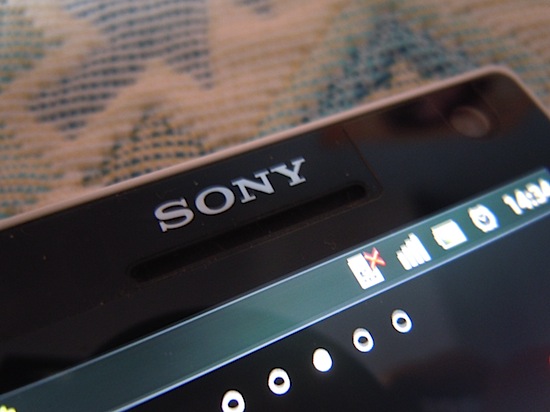 Looking at the front of the Xperia S at the top is the SONY logo, a first for the brand after the Sony Ericsson partnership ended recently. There is a large speaker area for voice calls which is really loud and clear when in use. You also have a front facing 1.3 megapixel camera used for video calling, this also records in 720p resolution which is quite rare considering a lot of phones still use VGA for front facing camera.
Below is the large 4.3 inch screen which is at 720p resolution so 720 by 1280 with a very impressive 342 PPI, that makes it the highest quality screen on an Android phone at the moment even beating the Samsung Galaxy Nexus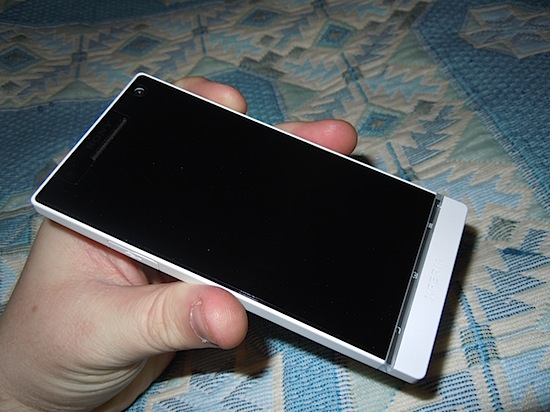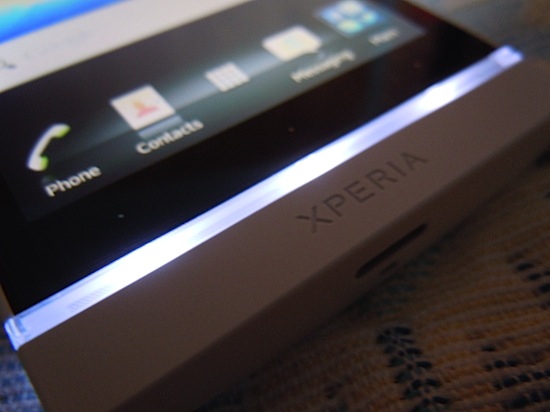 Below the screen 3 touch sensitive buttons which are displayed by a tiny little dot on the left, centre and right hand side. Under these is a unique feature in the transparent strip running all the way around the body, this also acts as a notification band which lights up when you are getting a call or text through. One common mistake I had was trying to press these as buttons but remember these are NOT buttons, the buttons are the little dots above
Below the strip is the Xperia brand which Sony will use on all their top end smartphones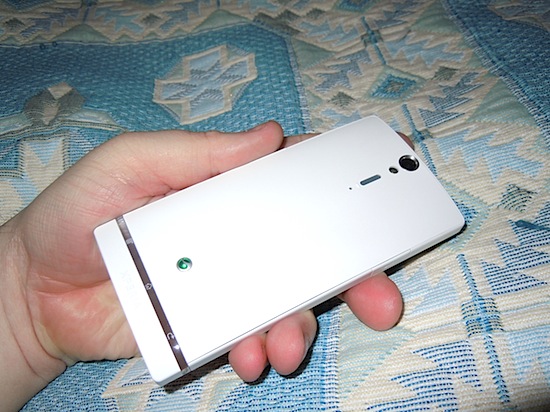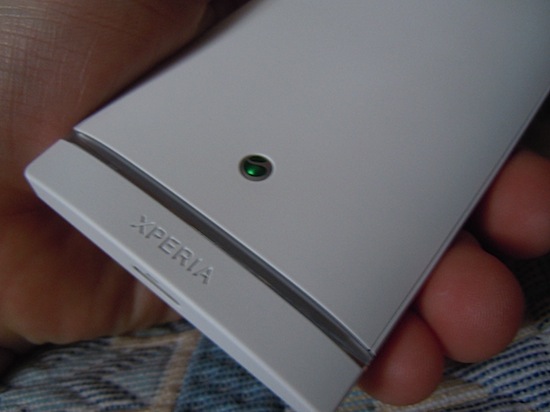 On the back you have a fantastic 12… yes 12 megapixel camera which is one of the best if not THE best seen on an Android phone to date. Another website recently put the Xperia S head to head with the Nokia N8 which was the king of mobile phone cameras and on a lot of tests including macro mode the Xperia S won which is great news for all those mobile photographers who want the flexibility of Android and not have to give up on camera quality. Not only is the camera impressive but video quality is also outstanding recording ad Full HD, 1080p resolution which can be shown on a TV if you use a HDMI cable or why not upload to YouTube in full quality over WiFi and show off what the lens can really do. Plus using the Exmor R technology with a LED light for camera use you get a great low light camera which can get stunning pictures in all conditions.
Below the LED flash is the speakerphone which like the speaker for calls is really clear and excellent for music playback.  You also have another microphone which is used for high quality audio recording when using the video camera.




[yframe url='http://www.youtube.com/watch?v=Xq-LKzjmcy4′]
As you can see in the sample pictures above the amount of detail is really good, very clear and with little to no noise making it the best camera phone on Android at the moment. The Samsung Galaxy S2 is known for a great camera but the Xperia S takes taking photos to a new level.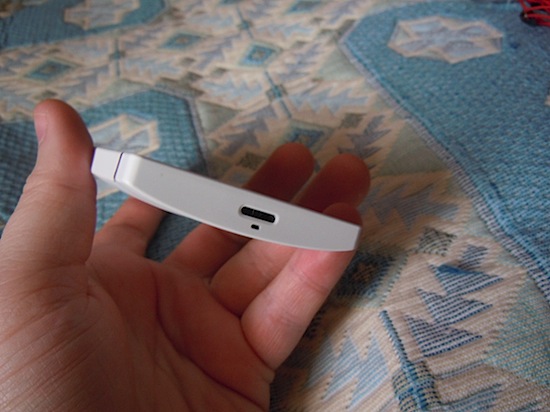 The bottom of the phone has the microphone and a slot for a wrist strap which although is something I never use, a lot of people do and considering this is a flagship camera phone it is easy to see why Sony have put one on the Xperia S just to cover all user types.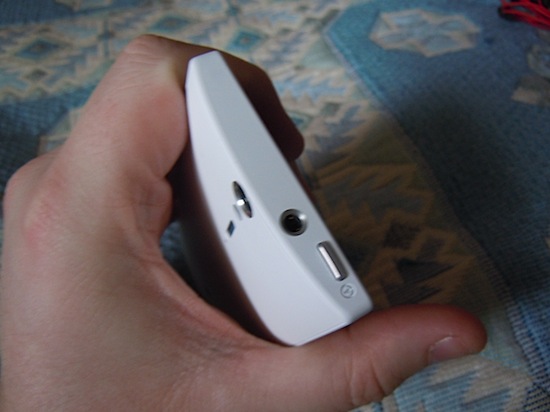 On the top you have the on/off button which is also used to put the Xperia S into standby mode and to wake it up when you need it. There is also the 3.5mm headset port which is where you can plug in either the supplied headset or if you have your own then you can use this. For example I have a set of Beats in-ear headset which cost £80 but if you love listening to music very few headsets can better the quality and with 32GB of storage to fill that is a LOT of music.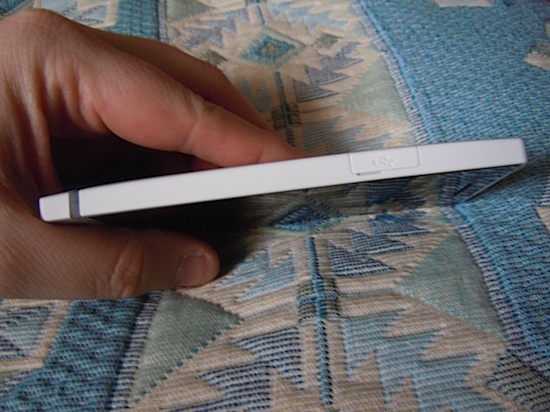 The left side has a the MicroUSB port which is used for connecting the Xperia S to your computer but also for charging df course as MicroUSB is the now standard way of charging a phone.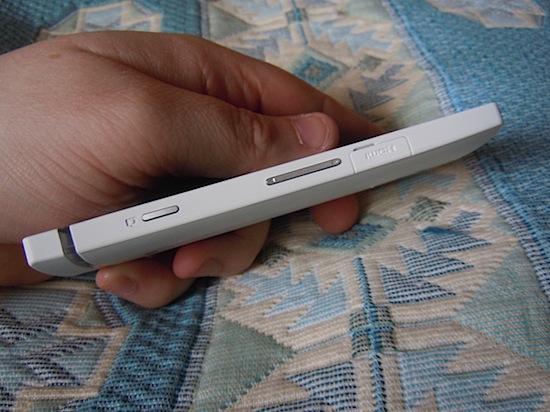 The right side has a HDMI port used for plugging your phone into a TV using a HDMI cable. The package we purchased came with a cable free in the box but this will vary from location to location so make sure you find out before you buy as it might mean an extra expense later on you did not expect.
Below this are the volume up and down buttons, no point going into their use if you have owned a phone before, especially Android you will know how these work. Then comes the little button on joy as I call it… the dedicated camera shutter button which is used to open the camera, take pictures and start/stop recording videos.
So many phones now lack this button, thankfully Sony put it on there because for a flagship camera phone many people will want a dedicated camera button as it makes it easier to focus and snap those all important pictures.
Final Thoughts
For so long I have been waiting on a camera phone running Android to compete with the mighty Nokia N8 running symbian but until now nothing has managed to even come close to the quality. That is until Sony released the Xperia S!
When heading to Barcelona for Mobile World Congress the Xperia S was one of the devices I was really interested in getting hold of and checking out, the second it was announced during the Sony conference that the Xperia S was going on sale that week in Barcelona my immediate reaction was I HAVE to get one!.
Thankfully I have not been let down by the Xperia S and it is one of the best Android phones I have ever used, and I am not just saying that because of the stunning 12 megapixel camera it offers.
The Xperia S offers the full package from gorgeous looks (especially in white), transparent band at the bottom which acts as a notification light for incoming calls and text messages, 12 megapixel camera with full 1080p resolution recording, massive 32GB of internal memory and a 720p screen which is the best I have seen on ANY Android phone.
With Sony Ericsson having a hit and miss reputation in the past, Sony had to come out with a bang on their new brand of phones and if the Xperia S is the benchmark of their new phones things will get very interesting in the future with Sony bringing out some great new devices sure to impress everyone.