Three have just sent out a press release confirming the new Sony Xperia S is available on their network. If you want to see a great hands-on demo and some up close shots of the device, have a look at our earlier story from Barcelona or head over to any of the related stories on the right.
Check below for the full release.
Link – Hands-on with the Xperia S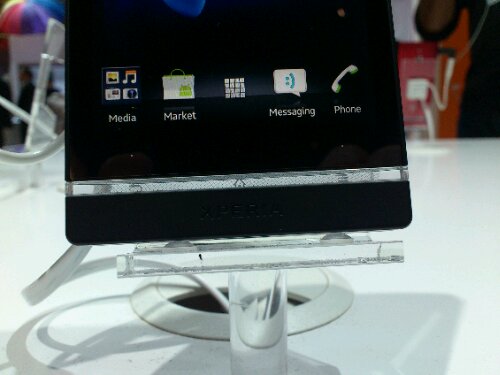 The powerful Sony Xperia™ S is available from Three on Pay as you go and Pay monthly now.

Built for high-definition content, the stylish Sony Xperia™ S displays images and video in vivid detail on its 4.3" HD Reality Display. The smartphone's premium features extend to the styling, with the handset boasting a unique illuminating transparent strip at its base for quick access to updates and features.

With a 12 megapixel camera and Exmor™ R sensor, users can also shoot impressive photos and full HD video even in low light conditions. Plus, pictures and footage can be shared on TVs and laptops in HD using the Sony Xperia™ S' supplied HDMI cable.

Sylvia Chind, head of handsets at Three said, "With a striking display, this is an ideal smartphone for those looking for high-definition entertainment. Plus, as the only network to offer all-you-can-eat data on both Pay as you go and Pay monthly, Three customers can enjoy all of the rich content that YouTube, BBC iPlayer and Spotify have to offer without ever having to worry about data limits."

The Sony Xperia™ S is available on PAYG for £369.99. All in One 15 costs £15 and gives 30-days access to all-you-can-eat data along with 300 any-network minutes and 3,000 texts. Or All in One 25 costs £25 and offers 500 minutes, 3,000 texts and all-you-can-eat data for a 30-day period.

Pay monthly customers can get the Sony Xperia S from £30 a month or £36 a month on The One Plan with all-you-can-eat data, 2,000 minutes and 5,000 texts.

Key features:

· Unique design.
· 4.3" HD Reality Display with Mobile BRAVIA© Engine.
· 12MP camera with Exmor™ R sensor + HD video.
· HD sharing with HDMI (cable in-box).
· Super-fast1.5GHz dual core processor.
· 32GB internal memory.
· NFC compatible.