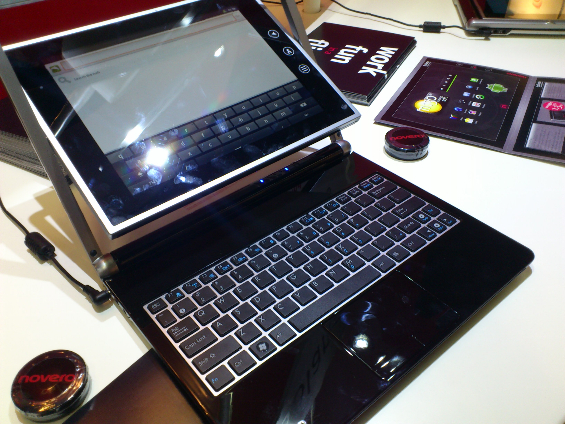 Remember the Solana tablet / laptop combo we mentioned recently? It's from Novero so we popped along to see them today. The demo unit they showed us is still in the early stages but switches in a similar fashion to the ViewSonic VIewpad we saw last year. As a prototype unit this took some time to switch from Windows 7 to Android – changing to another partition as it does – but this will be streamlined in the final version.
The Novero Solana operates like a laptop and runs Windows 7 (plus it's ready for Windows 8). Then, with a press of a button, you can switch to Android. You don't necessarily need to rotate the screen around either, you can use the trackpad and keyboard in the Android OS too, or flip the screen around and use it as a "normal" Android tablet. Heck, you can even switch to Windows whilst the screen is down and use Windows 7 (or 8) with your finger.
Available in Q2 this also has one of the highest battery capacity batteries (32Wh), a dual-core Atom 1.6Ghz CPU plus an INtel GMA3600 graphics processor, 2GB of DDR3 RAM and a 9.7″ 1024×768 pixel capacitive screen. Storage comes from a 32-128GB SSD plus it has microSD, WiFi, Bluetooth and a 3 megapixel camera.
Price-wise, excpect to pay around £464 for the standard 64GB SSD version. This will also keep you connected when you're on the move thanks to its 3.5G (HSPA+) capability.
Here's the Solana in action..
Links – – Novero – Earlier story